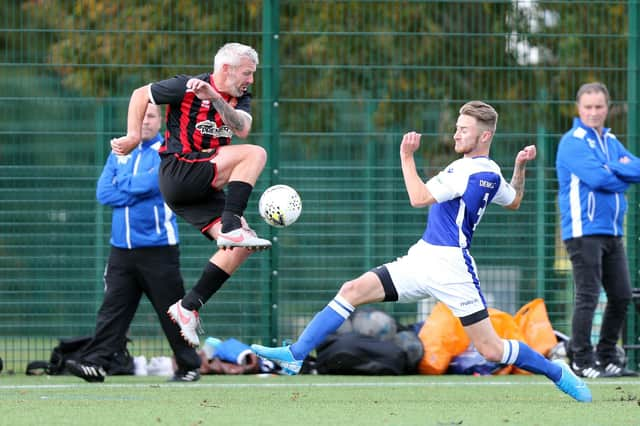 Phil Archbold, left, netted twice for Fleetlands in their record Hampshire Premier League victory over Sway. Picture: Chris Moorhouse
Rich Bessey's side blasted seven first-half goals en route to a 10-0 victory over the struggling New Forest side.It was the first time the Coptermen had hit double figures in the HPL, with their previous best success an 8-0 trouncing of Team Solent in December 2007.Sadly for Sway, it was the third successive game in which they had conceded double figures.Prior to lockdown, they had crashed 14-1 to Colden Common and 10-1 against Clanfield.All five of Fleetlands' strikers – Kelvin Robinson, Jamie Wrapson, Sam Adams, Shane Flooks and Matt Andrews - hit the target.
Top scorer Robinson opened the floodgates on just three minutes before Adams (13) and Wrapson (15) got in on the act.
Ex-US Portsmouth man Phil Archbold made it 4-0 before Robinson plundered his 12th goal of the season after his summer arrival from Fareham Town.
Archbold (42) and Bryn McKie (45) extended the lead before half-time with Adams (59) and subs Andrews (75) and Flooks (79) completing the rout.
It was Fleetlands' fifth straight HPL win – or sixth if you include a walkover after Chamberlayne failed to raise a side - and during that time they have only conceded a solitary goal.During the same period, they have netted 27 goals!'Sway never gave up, but the difference between the two sides was huge,' reported Bessey.'It sounds arrogant, but were disappointed not to score more.'Our skipper Luke Heard was a bit deflated afterwards, while Wayne Boud was gutted because he didn't score!'Bessey gave full back Jamie Wynter has first start, while he was without usual captain Tommy Woodward who was starting a three-game ban for a red card at Liss.Woodward also misses this weekend's trip to Westleigh Park to face Clanfield and the huge game with his former club Paulsgrove on December 28.Adams, meanwhile, is on a month's loan from Wessex League club Romsey but his stay could be extended as he bids to improve his match fitness.He has yet to complete 90 minutes for Fleetlands, but has three goals in his two appearances.