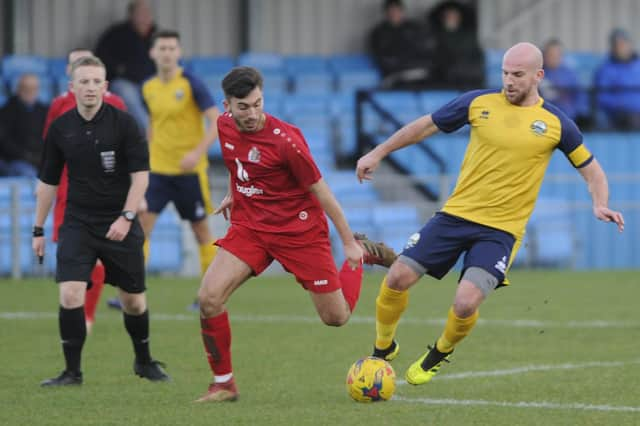 Gosport Borough's Mike Carter, right, is recovering from an Achilles injury. Picture: Ian Hargreaves
The hosts are also looking to bounce back from their 3-1 home FA Cup defeat against Hereford at the weekend.
Borough will head into the game in a confident mood after picking up seven points from nine in their opening three league games.
Keeper Pat O'Flaherty has yet to concede and, including 2019/20, Borough have kept five successive league clean sheets.
'We need to continue our good league form,' said Gale.
'It's a tough game, but that's every game in this league.
'They're tight, close games and Walton are a decent side with a good manager and lots of good players.
'We know that we're in for a tough evening, but we've got to try and continue our good league form.
'Despite losing against Hereford, there were a lot of positives we could take.
'It is important that we hit the ground running in the league.
'As the home team, the emphasis is on us to attack and we need to score goals.
'We've done well so far this season so I don't think we really need to change anything.'
Borough trained on Monday and Gale added: 'I think the lads have recovered well from the (FA Cup) defea.
'We spoke about a lot of things and had a good meeting where we discussed what we could do better.
'However, there weren't too many areas where we did anything wrong in the cup tie.
'We are a young group and still learning.
'It's important we bounce back.'
The match against Hereford also saw the return of Mike Carter to the bench, but whether he is ready for a full 90 minutes remains to be seen.
'Mike's recovery is not as quick as I hoped,' said Gale. 'He is still struggling and hasn't got a full match in him just yet.
'The problems with his Achilles are taking longer than we like.
'I don't want to rush him back, but we'll see how he is on the day.
'Matt Casey is back in training and so is Theo Lewis, but they need a bit longer before they are back to full match fitness.'
Walton have picked up just one point from three games. After opening with a 1-1 home draw against Hartley Wintney, they lost 2-0 at Taunton and 3-1 at home against Hendon.
They did, though, record an excellent 2-1 win at divisional rivals Met Police in the FA Cup at the weekend.