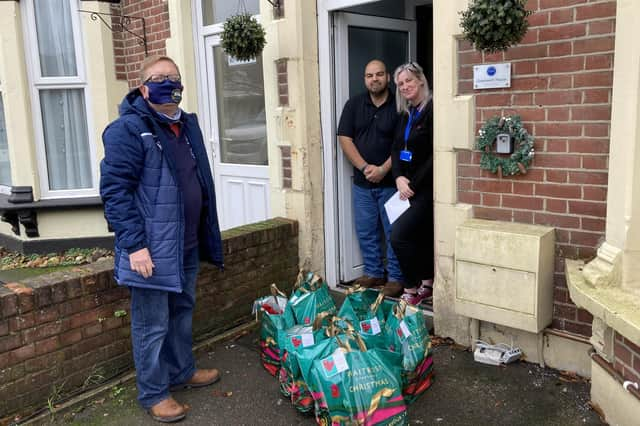 Keith Slater, from Gosport Borough's Feed a Family in Need campaign, delivering hampers, supported by Waitrose, to the Alabaré charity for distribution to veterans in need. Feed a Family has been working with the charity since April to ensure veterans in need in Gosport are looked after during the pandemic
Initially started up after the first national lockdown in April, the scheme is still going and volunteers have been delivering hampers to households on its books.
The Southern League Premier South club has teamed up with Boxxfresh, the Co-op, Asda and Morrisons to create special food and gift parcels which have been distributed across their local communities.
Radio station Wave 105, via its Mission Christmas appeal, has donated gifts for the parcels.
Boro have also linked with the Alabare charity, who will be distributing parcels to veterans.
Deb Redpath, Boro's community coordinator, said: 'This has been a real team effort.
'From raising the funds to create the parcels, through to our fantastically generous supplies and the volunteers who distribute them, these hampers couldn't have happened without the help of so many people.'
Gosport Borough has been running the Feed a Family In Need campaign since April and has helped more than 500 families since.
A crowdfunder campaign was set up to raise £2,500, but over £9,500 has now been donated with Gosport MP Caroline Dineage among the appeal's most recent supporters.
Deb added: 'People have already been very generous, but we are anticipating demand continuing at at least current levels into the new year, so we need to ensure we keep fundraising.
'Anything people can spare would be appreciated and keep the wolf from the door of some of the town's most vulnerable families.'
Boro boss Shaun Gale, whose side have not played since late October due to the pausing of the Souhern League season, has praised the appeal.
'I can't say enough about the goodwill of people at this club,' he commented.
'They're still running the Feed a Family scheme to help the vulnerable - probably at a cost to the club - and people are still volunteering their time.
'The club are still doing their bit.'