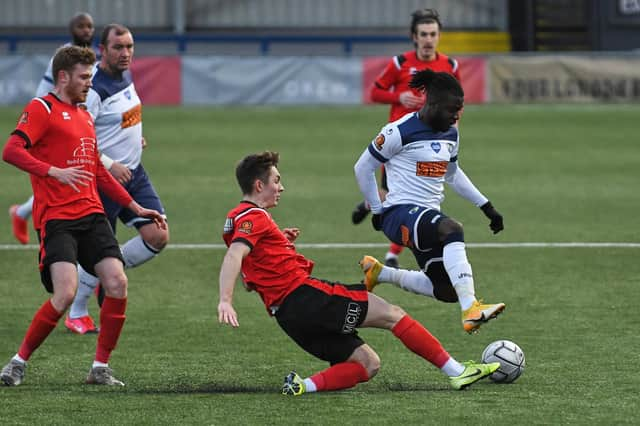 Hawks sub Daniel Ajakaiye in action during the loss to Eastbourne. Pic: Neil Marshall.
On a day when they would have jumped up to sixth with a third successive league win, they suffered a 2-1 Westleigh Park loss to an impressive Eastbourne side.
In a game only arranged with 48 hours notice, following Altrincham conceding their FA Trophy tie with Hawks due to the pandemic, Boro top scorer Chris Whelpdale struck either side of a Bedsente Gomis leveller.
It was only Hawks' fourth loss in 18 league and cup games in a stop-start 2020/21 which has seen 10 matches postponed or cancelled due to positive Covid-19 test results.
Godfrey Poku in action alongside Eastbourne Borough's two-goal match-winner Chris Whelpdale. Picture: Neil Marshall
A rare defeat, then; but, as Doswell correctly conceded, one his side can have absolutely no complaints about.
'It was a thoroughly deserved defeat,' he stated.
'We could have been two or three down at half-time.
'They were simply sharper and better than we were.
Hawks and Eastbourne Borough players attack a corner. Picture: Neil Marshall
'Our set pieces were poor today, everyone was just slightly off it.'
Due to Covid, Hawks had only played once since December 19 - a 4-2 home win over Hungerford on January 2. Either side of that fixture, they had been forced to self-isolate for 10 days - calling off six league games as a result.
It showed against Eastbourne.
'Today we looked like a team who had only played once in 21 days,' said Doswell.
Hawks attack a corner during the closing stages of the 2-1 home loss to Eastbourne Borough. Picture: Neil Marshall
We looked leggy. We didn't look fit, and we're a squad who pride ourselves on our fitness.
'If we'd got a point we would have got away with one - we could have lost three or 4-1.'
Though reluctant to offer excuses, Doswell admitted the pandemic has affected the club badly - not only have players and staff been tested positive, but Roarie Deacon's father passed away with the virus before Christmas.
Four players recently tested positive - Anthony Straker, Sam Magri, Godfrey Poku and loanee Leon Chambers-Parillon.
All but Magri started against Eastbourne, but Chambers-Parillon was clearly struggling and, after 45 minutes of only figuring on the periphery of the action, he was withdrawn.
'We weren't too hard on the players at half-time,' Doswell revealed.
'I don't think screaming the changing room down would have helped. Everybody knew we hadn't been good enough.
'There's a lot of issues at the moment to deal with, and it is difficult. This is the weirdest season I've ever known.
'We'll give the players a free pass for that one - well, a free-er pass!
'It was disappointing, but understandable in the circumstances.
'This (the pandemic) is affecting younger people, it's affecting older people.
'Leon's had it, he looked ok in training on Thursday, but he just couldn't carry on today.
'If this season is going to be completed, there's going to be bumps in the road. I expect a lot of bumps and this was a bump today.
'In our heart of hearts, we know that wasn't us out there today.
'We were too open at the back, we went too long far too often.'