Hawks keen to carry on National League South season – even if they have to take on a loan to do so
Hawks are keen to complete the National League South season - even if it means taking a loan in order to do
Tuesday, 2nd February 2021, 7:58 am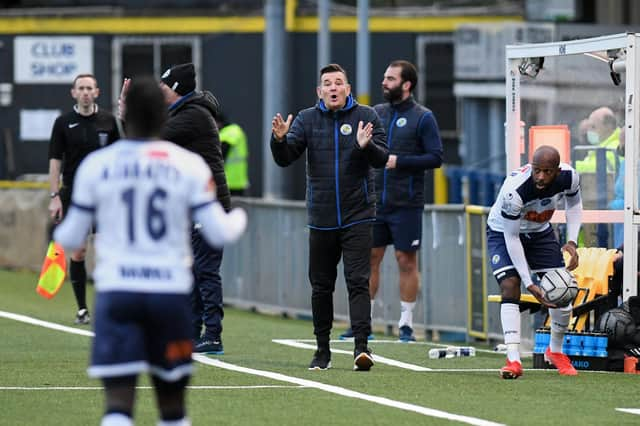 Hawks boss Paul Doswell. Picture: Neil Marshall
But boss Paul Doswell reiterated the club will not continue their league campaign unless Covid-19 testing is made a mandatory obligation at least once a week by the authorities.
Hawks' players and staff were back training at Westleigh Park yesterday following a 10-day self-imposed isolation period because of coronavirus safety concerns.
They are currently preparing to welcome National League high-fliers Notts County on Saturday in the FA Trophy last-16.
Yet the club remain unaware whether or not that will be their final action in 2020-21 with uncertainty still surrounding the National League season.
At present, both the South and North divisions are suspended until Friday because of the ongoing dispute over £10m funding support provided to the league through the Government's Sport Winter Survival Package.
All 66 National League clubs are split over whether they would be willing to accept the financial aid in the form of loans rather than grants over three months in January, February and March.
So far, 17 clubs from South and North - 12 of those from the North - put their names to a letter for the season to be curtailed unless support comes in the form of grants, which is appearing increasingly unlikely.
Yet other clubs, including Hawks' promotion rivals Dorking Wanderers and Ebbsfleet United, are keen for the campaign to be concluded no matter what.
Doswell, who was attending a club board meeting last night to discuss the possibility of accepting a loan payment, feels Hawks are leaning towards accepting the terms offered by the National League to complete the season.
But a final decision is yet to be made on whether the club will take a loan in order to conclude this term.
'I think as a football club we want to keep playing football, we're in a business of playing football, of course it's a big cost attached to the club,' said Doswell.
'But looking at the terms and the amount of years you've got to repay it and everything else that runs with it (taking a loan), I do think we're going to look at it very seriously in terms of being able to have a go at it.
'I think we owe it to the supporters, if we can, to keep going.
'We're more than open to exploring it (taking a loan).
'I think the general consensus is if we can continue to play through a loan then it's a route we're probably favouring, but it's not been decided yes or no yet.
'But weekly, mandatory testing, preferably bi-weekly testing, it should be done on a Monday and a Thursday or Tuesday and a Thursday, whenever clubs are in, but we'll accept one day a week.
'It's not other clubs, it's us, it was just ripping through the club all the time. Despite doing things properly ourselves, we just didn't feel it was right at the minute.
'But we do now, I think with it coming down a lot (coronavirus rate), it's really made a difference to how we all feel about it.'
Even if Hawks are in favour of taking a loan, the final decision on the season is out of their hands.
National League clubs have received a survey in order to canvass opinion on whether teams are willing to continue this term.
A final decision is now expected to be reached and made public on Thursday.