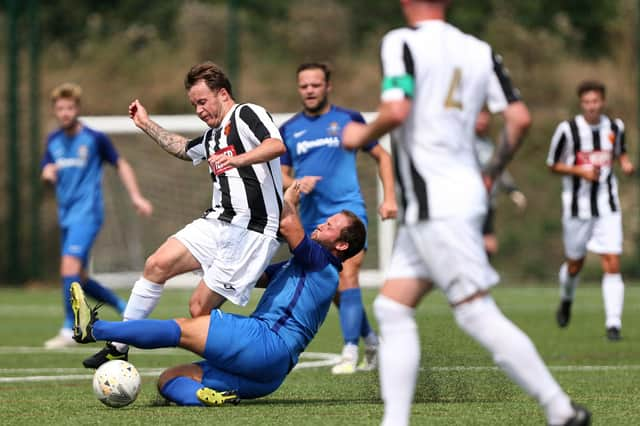 Baffins' Josh Dean challenges Josh Watts of Hayling United. Picture: Chris Moorhouse
Metherell didn't even see his long-range effort fly past goalkeeper Cameron Scott as he had turned his back on the ball.
Humbugs boss Dan Bishop said: 'Ben was feeling ill because of the heat - it was horribly hot - and whacked the ball just to get rid of it.
'He turned his back, took his shirt off and collapsed on the ground.
Hayling celebrate after taking the lead against Baffins. Picture: Chris Moorhouse
'We thought he was messing around, showing off! But he had heat exhaustion, so we brought him off, gave him some water and put him under an umbrella.
'It was sad that he didn't even see his shot go in.'
Metherell's long range effort helped Hayling to a remarkable victory over two divisions higher Baffins on a 3G surface.
Rovers started with just two summer signings - Matt Andrews and Charlie Cooper - alongside Wessex regulars such as Tommy Tierney, Callum Dart, Rudi Blankson, George Burgess, Corey Burns and Scott.
Action from Hayling's 5-2 friendly win against Baffins Milton Rovers. Picture: Chris Moorhouse
They would never have expected to be 4-0 down at half-time to a team from the Hampshire Premier League's Senior Division.
Sam Neal latched onto a Josh Watts through ball to open the scoring before striker Joe Boxall doubled the lead.
Hayling also had a second Joe Boxall on the bench as a sub goalkeeper, and the former Baffins shot-stopper was introduced in the second half.
Josh Elms set up Neal for his second goal and Metherell further extended the lead.
Rudi Blankson crosses during Baffins' friendly loss against Hayling at Front Lawn. Picture: Chris Moorhouse
Baffins replied with two penalties in the second half before Neal received a short corner and worked his way into the six yard box before setting up Will Ford to complete the scoring.
'I don't think Baffins were expecting us to be as sharp as we were,' said Bishop.
'There were lots of positives, and I would still have been happy even if the scoreline had been reversed.
'We dominated the ball, that was the nice part for me.
Callum Dart, centre, on the ball for Baffins Milton against Hayling. Picture: Chris Moorhouse
'We've been doing work on our shape and we've brought in Ben Taylor, a UEFA B coach, and he's helped with some subtle changes.'
Taylor is the son of Hayling's assistant manager Gary Taylor.
This result will have raised eyebrows among the HPL community, but Bishop is keeping feet firmly on the ground.
'I'm not getting carried away,' he said. 'If we played Baffins again in a month's time I would expect them to beat us.'