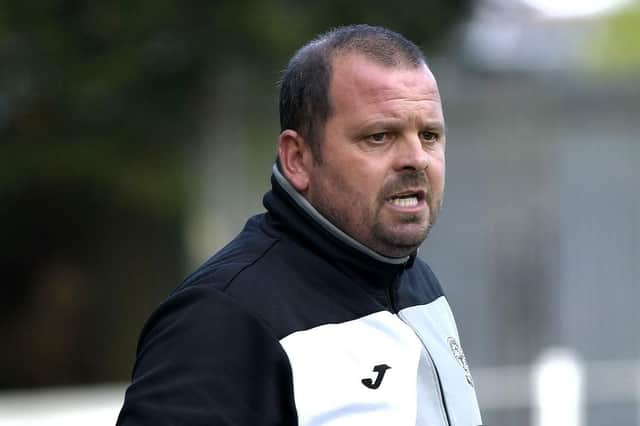 Horndean boss Michael Birmingham
League officials announced late on Monday night that games across the two divisions would be postponed until a review on Monday, January 18.
But Birmingham, whose side sit third in the Premier Division, doesn't think that decision went far enough.
And he is not bothered if the campaign is null and void, rather than decided on a points-per-game basis, for the second season running.
Although Horndean remain under tier two restrictions, Birmingham and the large majority of his squad are Portsmouth-based.
That means they are currently unable to travel out of the area to play and train as they are placed under tier four restrictions.
As a result, Horndean's scheduled trip to Cowes Sport on December 29 and a visit to AFC Portchester on January 2 had already been postponed prior to Monday's announcement by the Wessex League's management board.
Having already been unable to play for a month following the four week 'non-elite' football suspension in November, Birmingham insists now is the right time to pull the plug on the current campaign.
'I get why the season had to start, I understand that, it (this season) went on longer than I expected,' he admitted.
'I would say end the season and call it a day.
'Everything is stop-start, end the season, call it a day and hopefully we can get rid of this horrible virus and we can concentrate on planning for a proper full season next season come June time.
'Out of my 16 on a match-day I've got 14 of them that come from Portsmouth.
'At the end of the day we cannot leave our tier.
'It's spreading more aggressively down where we are, so why would you even risk it? Just call it a day, season null and void, and get ready for June or July.'
All Wessex League clubs will be facing a packed fixture list if the season does restart next month.
At present, Horndean have played just 13 of their 38 league games.
Though the 2020/21 season could be extended, currently their final Premier game is due to be played on April 24.
That means Birmingham's side would face 25 league games in 92 days if the season resumed on Saturday, January 23.
Brockenhurst have played the fewest Premier games so far, just 10. They would be playing on average every 3.2 days if the season restarted on January 23 and ended on April 24.