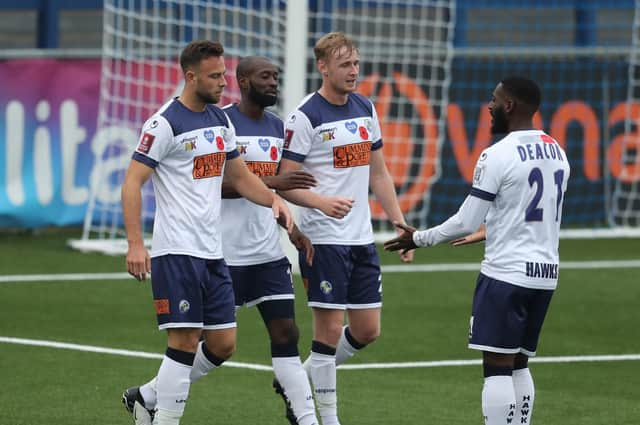 Bedsente Gomis, centre, gets the winner against Cray Valley PM. Picture: Dave Haines
Both players scored in the first three rounds against Horsham, Chatham and Bath City.
Here, The News looks at how Paul Doswell's squad set up this weekend's trip to fellow non-leaguers Marine…
Theo Widdrington celebrates netting in the FA Cup at Bath City
Roarie Deacon fired Hawks into a half-time lead against Isthmian League Premier opposition in a tie switched to Bognor's Nyewood Lane because the new 3G pitch at Westleigh Park wasn't ready.
Tommy Wright celebrated his competitive debut for the club by doubling the lead, with Horsham - who rarely threatened Ross Worner's goal throughout a tie played in heavy rain - grabbing a late consolation.
It gave Horsham, whose keeper Brad House was the undoubted man of the match, a flattering scoreline.
Roarie Deacon netted in the Hawks' FA Cup victory against Chatham. Picture: Dave Haines
Hawks boss Paul Doswell handed five other close season signings a debut - Billy Clifford, Theo Widdrington and Joe Iaciofano from the start and Daniel Ajakaiye and Lucas Sinclair off the bench.
'We created four or five excellent chances in the first half and some unbelievable chances in the second half,' said Doswell.
'Their keeper made some amazing saves. It could have been six or seven.
'We played some great one-touch stuff at times - until they scored I felt as comfortable as I've ever felt in an FA Cup tie.
Tommy Wright grabbed his first Hawks goal in the FA Cup win over Horsham. Picture: Dave Haines
'A game is never over at 2-0 and we needed a third to kill them off.
'Overall, it was a good day at the office.'
Hawks: Worner, Read, Straker, Magri, Robson, Clifford (Ajakaiye, 79), Gomis, Widdrington, Iaciofano (Sinclair, 77), Wright, Deacon.
Chatham might play three levels below Hawks in the Southern Counties East League, but they are no mugs.
Just take a look at the league table - Chatham entered lockdown earlier this month in pole position having won 10 of their 11 games and scored 60 goals in the process.
But Hawks survived a nervy 15-minute period after taking an early lead through Joe Iaciofano to end up comfortable winners.
Roarie Deacon added a second before half-time and Iaciofano made it 3-0, heading into an empty net after Bedsente Gomis' shot had hit the bar.
Tommy Wright struck a fourth before Chatham grabbed a late consolation.
'Chatham are very well funded, they have some very good players who should be playing a lot higher,' said Doswell
'They will walk their league this season - that's why we knew this would be a difficult game for us.'
He added: 'We genuinely felt we would score lots of goals.
'They are very good going forward but we knew they over-load at times and they would leave space at the back.
'It wasn't a 4-1 game, it was a bits and pieces performance from us.
'It's a new group, a much younger group, and we know there's lots of work on.'
Hawks: Worner, Read, Straker, Magri, Robson, Clifford (Rowe, 61), Widdrington, Gomis (Poku, 67), Wright (Sinclair, 67), Iaciofano, Deacon.
Hawks produced a superb performance at Twerton Park to book a first round proper place for the first time in six years.
Tommy Wright and Roarie Deacon both scored for the third round running, while at the back the Hawks defence - with Moussa Diarra making his FA Cup debut for the club - kept National League South rivals Bath quiet.
Wright opened the scoring on 21 minutes, with a thunderous 25-yard shot that scorched into the top corner.
Deacon doubled the lead just before the hour mark, Deacon scoring with a low shot from the edge of the penalty area, and Theo Widdrington came off the bench to complete the victory late on.
Boss Paul Doswell was delighted that the decision to stay overnight in Bristol paid dividends.
'Even if we'd lost today we'd have earnt just over £3,000,' he said.
'We decided that we'd spend some of that, if not most of it, on giving us the best possible chance to prepare.
'You can't put a price on things like that.
'It's the first time we've ever stayed overnight since I've been here - it's the first time we've actually gone on a coach.
'Normally the players make their own way to away games.'
Hawks: Worner, Read, Straker, Magri, Diarra, Robson, Taylor, Clifford (Gomis, 73), Wright, Iaciofano (Sinclair, 82), Deacon (Widdrington, 67).
Hawks 1 Cray Valley Paper Mills 0
For the third time in four rounds, Hawks were drawn against lower tier opposition.
Cray Valley, from the Isthmian League South East division, were no mugs - having come from 2-0 down to win 3-2 at National League Maidenhead in the previous round.
And there were a few uncomfortable moments for Hawks after Bedsente Gomis had headed the only goal from close range on 18 minutes from debutant George Mclennan's left-wing cross.
Nerves increased once midfielder Godfrey Poku - initially booked in the second minute - was dismissed midway through the second half for a second yellow on his first start of the season..
The nearest Cray came to forcing extra time was when Matt Warren's shot hit the post in the closing stages.
Hawks boss Paul Doswell said: 'The better team on the day lost. We got away with one today - we were a bit ill-disciplined at times - but don't forget these are never easy games.
'If we didn't win the players would have been criticised, and if we did win then nobody would really notice.
'I'm very relieved - going down to 10 men gave us a mountain to climb, but credit to the 10 players, they didn't allow Ross Worner to make a single save.
'If Cray had possessed a bit more quality, then I think Ross would have had to make saves.'
Hawks: Worner, Read, Mclennan (Straker, 45), Diarra, Magri, Poku, Taylor, Gomis, Iaciofano (Robson, 67), Wright, Deacon (Sinclair, 84).