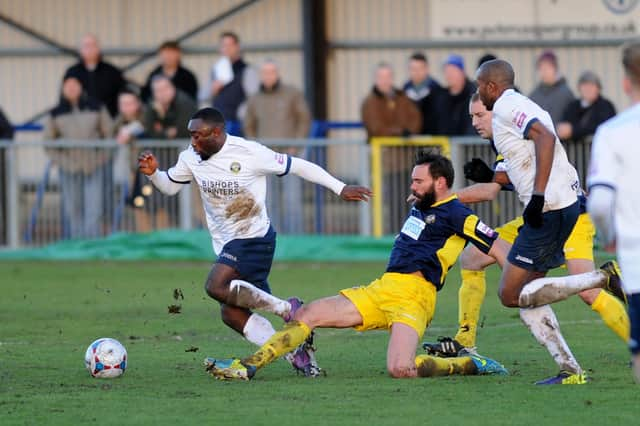 Hawks' Sahr Kabba, left, is tackled by Jamie Brown during his side's 2-1 Boxing Day win over Gosport on Boxing Day, 2013. Picture: Allan Hutchings.
And it was scored on Boxing Day five years ago by Gosport Borough's Dan Wooden in a south coast derby against Hawks at Privett Park.
Wooden's acrobatic effort made him an internet star - the Daily Mirror just one national paper to run a story on his goal along with a video still available to watch on YouTube.
With no Boxing Day football to preview this year - Gosport's Southern League season has been paused since early November and Hawks' game at Hungerford is off due to a non-playing staff member testing positive for Covid-19 - The News instead looks back at the recent south Hampshire derbies on that day.
Rory Williams, right, takes on Ben Swallow at Privett Park on Boxing Day, 2015. Picture Ian Hargreaves
The first competitive game between the clubs for seven years came after Alex Pike had masterminded back-to-back Southern League promotions at Privett Park.
But it was Hawks who took the Boxing Day derby bragging rights seven years ago with a 3-0 home victory in the Conference South.
Gosport players celebrate Dan Wooden's overhead kick against Hawks five years ago. Picture Ian Hargreaves
Sahr Kabba broke the deadlock in the 28th minute with a solo run past three defenders, including former Hawks captain Sam Pearce, before scoring.
Just before the break another ex-Hawk, Brett Poate, was dismissed for a second yellow card after a lunging tackle on Scott Jones.
The hosts made their advantage count when Dennis Oli fired home in the 64th minute and sub Alek Przespolewski added a third in time added on.
Hawks: Bevan, Strugnell, Blanchett, Ryan, Monteiro, Harris, Ciardini (Ramsey, 72), Atangana, Oli (Przespolewski, 72), Kabba, Jones (Nanetti, 46).
Sahr Kabba, left, celebrates his goal for Hawks against Gosport on Boxing Day, 2013. Picture: Allan Hutchings
Gosport: Ashmore, Forbes, Poate, Brown, Richardson, Pearce, Dunford (Wilde, 73), Smith, Sills (Igoe, 54), Wooden (Bennett, 76), Williams.
Striker Ben Wright netted twice as Hawks twice came from behind to win a Boxing Day derby for the second season running.
Dan Wooden (on knees) celebrates his wonder strike against Hawks at Privett Park on Boxing Day 2015. Picture Ian Hargreaves
Wright, only just signed from Eastleigh, struck first on 35 minutes to cancel out Matt Paterson's opener for Boro.
After Justin Bennet had restored the visitors' lead on 55 minutes, Wright restored parity again three minutes later.
That set the scene for Nic Ciardini to grab a winner eight minutes from time.
Hawks: Young, Strugnell, Blanchett, Stock, Harris, Swallow, Donnelly (Ryan, 77), Wright (Huggins, 86), Hooper (Bubb, 72), Ciardini.
Gosport: Ashmore, Muleba (Molyneaux, 65), Williams, Carter, Poate, Pearce, Dunford, Smith (Wort, 87), Paterson, Bennett, Wooden (Wilde, 90).
Gosport players celebrate after Hawks defender Lee Molyneaux (foreground) had put through his own goal on Boxing Day, 2015. Picture by Ian Hargreaves.
In a tale of two wonder strikes, it was the hosts who emerged triumphant with former Boro defender Lee Molyneaux's own goal proving decisive.
Wooden's opening goal was simply spectacular, as he controlled a Rory Williams cross before teeing himself up for a stunning overhead kick that flew past stunned keeper Ryan Young in the 12th minute.
Scott Donnelly levelled matters five minutes later with a brilliant strike of his own, slamming a 25-yard strike past Nathan Ashmore - one of three ex-Hawks in the home XI alongside Brett Poate and Ryan Woodford.
But Boro clinched the points before the half-time break when Williams' low cross was diverted into his own net by Molyneaux.
Hawks midfielder Brian Stock saw red late on for the visitors after collecting a second yellow card.
'Dan's goal was a wonder goal,' praised Gosport boss Alex Pike.
'He had to have skill, precision and awareness - all three elements.
'If you hit it that early then goalkeepers can't see where it is coming from.'
Gosport: Ashmore, Cuthbertson, Williams, Carter, Poate, Woodford, Barker, Harding, Robinson, Bennett, Wooden (Dunford , 60).
Hawks: Young, Strugnell, Medway, Stock, Molyneaux, Hill, Cummings (Hayter, 60), Donnelly, Paterson (Mullings, 84), Lewis, Swallow (Dutton, 73).
Other memorable Boxing Day wins for the Hawks include ...
Hawks completed an emphatic Southern League Premier double with two goals from Jamie O'Rourke and a late third from Phil Barnett.
They previously won 5-2 at Twerton Park in August with doubles from Hambley (both penalties) and James Taylor
Hawks: Nicholls, Wilkinson, Price (Connolly, 46), Lee, Hall, Daish, Blake, Hambley, O'Rourke, Taylor (Barnett, 84), Davis (Anstey, 68).
Striker Carl Wilson-Denis - recently signed from Carshalton - struck the only goal of the Conference South encounter 17 minutes from time.
The Rocks line-up included current Horndean boss Michael Birmingham.
Hawks: Matthews, Annon, Byles (Taggart, 63), Collins, Jordan, Gray, Lopez, Pethick, Wilson-Denis (Harrison, 87), Saunders (Wallis-Tayler, 74), Poate.
Bognor: Stoner, Piper, Rowland, Budd (Johnson, 59), Breach (Hunwick, 54), Lynch (Murphy, 46), Watson, Birmingham, Hudson, Howell, Beck.
Louis Castles gave Bognor a third minute lead in this Conference South derby at Nyewood Lane.
But Hawks stormed back to lead at the interval through a Jamie Collins penalty and Charlie Henry.
Robbie Matthews, Ian Simpemba and sub Luke Nightingale all added further goals in the last 20 minutes.
Bognor were relegated that season, though they did draw the return fixture at Westleigh Park on New Year's Day 2-2 (after leading 2-0).
Hawks: Scriven, Conroy, Poate, Collins, Elphick, Simpemba, Henry, Holloway, Watkins (Nightingale, 76), Matthews (Booth, 76), Ramsey (Compton, 46).
Rocks: Tardif, Hinshelwood, Funnell (McEnery, 67), Pearce, French, Byrne, Castles, Smith, Lynch (Gaisie, 46), Fraser, Pettefer.
Eastbourne Borough 0 Hawks 1
The familiar face of current Hawk Ross Worner was in goal for Eastbourne on Boxing Day eight years ago.
Worner was beaten only once - by a Christian Nanetti penalty two minutes before half-time - but that was enough to give Hawks victory in Sussex.
Hawks: Masters, Newton, Butler, Ryan, Harris, Woodford, Nanetti, Ramsey (Hutchinson, 73), Palmer, Kabba (Bailey, 86), Arthur (Taggart, 67).
Eastbourne: Worner, Hamilton, Raymond, Uddin (Lok, 81), Rowe, Watts, Adelsbury (Smith, 57), Gorman, Ibe (Walker, 63), Charles, Shepherd.