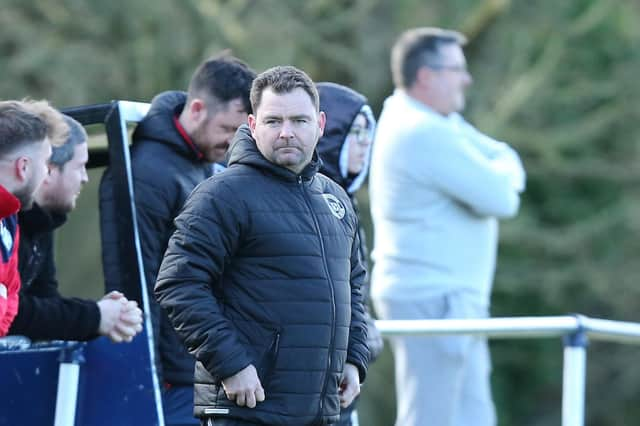 Paulsgrove manager Wayne Grant. Picture: Chris Moorhouse
A rousing second-half showing saw them come from behind to run out 4-1 victors at Colden Common.
It's a win that keeps Paulsgrove in the mix for a top-three finish and ending the campaign on a high note.
With Infinity and Bush Hill almost certain to finish first and second, Grant's team are determined to be the best of the rest.
Fourth-placed Fleetlands have collected eight fewer points than Paulsgrove, but do have four games in hand, while Hayling and Colden Common also remain in the race to finish third.
But Grant is hopeful maximum points in their final three matches could be enough to secure a third-placed finish.
'It's a shame that the season is coming to an end because we're in a good bit of form at the moment,' he said.
'We set out our objectives at the start of the season for top six.
'It's looking like we'll probably get that now, but Fleetlands and Colden Common can still catch us.
'We've got to just keep putting the points on the board.
'We've got three left (v Lyndhurst, Liphook and Chamberlayne) and we should be looking to take nine points.
'That will cement us where we want to be in the top three or four.
'That would be a decent season, and we had a good (Portsmouth Senior) cup run as well.'
Paulsgrove were trailing at the break against a Common side who beat them 3-1 at Marsden Road a few weeks earlier.
But they blew the HPL Cup finalists away after the restart.
John Cripps levelled before Jake Warlow, Moulay Ousman and Reece Lewis also got on the scoresheet.
Grant saw signs of the 'old' Paulsgrove in that second half showing.
'It was a very good win and a good performance all round,' he added.
'I was delighted with how things went from start to finish.
'We were dominant for most of the game.
'Colden Common are a good side, they turned over Infinity the other week (in the HPL Cup).
'The first half was pretty even, but the second half was the Paulsgrove of old.