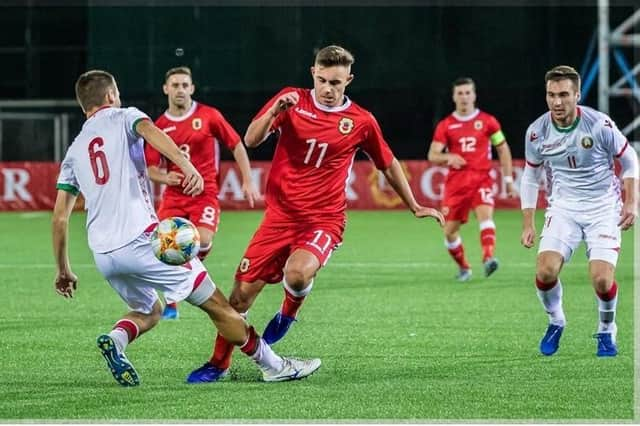 Jack Breed in action for Gibraltar under-21. Picture by Neil Wilson.
Now Jack Breed is eyeing senior honours for his country after leaving Fareham Town to sign a two-and-a-half year professional contract with Gibraltar National League outfit Europa FC.
The 21-year-old midfielder has already been afforded opportunities that players with only non-league experience rarely ever get to taste.
Breed - born in Gibraltar before moving back to England at the age of one - has been heavily involved with his country's under-21 side since being handed his debut in a European Championship 2019 qualifier in Armenia in October 2017.
Since then, the former Gosport Borough and AFC Portchester prospect has been a regular in his country's age group squads.
Breed started all eight of Gibraltar under-21s' European Championship 2021 qualifying matches.
Drawn in a group that included both Portugal and Holland, it saw the former Bridgemary School pupil share the field with Wolves regular Neto, Trincao - who sealed a multi-million pound move to Barcelona from Braga weeks after facing Gibraltar - and Dutch legend Patrick Kluivert's son, Justin.
His international exploits have provided Breed with plenty of pinch yourself moments but it's also given him a thirst for wanting to experience more - only this time on a senior level for Gibraltar.
Breed said: 'My last two games (for the under-21s) were against Netherlands and Portugal, we played them twice (in the group).
'That was a real test but real fun playing against some unbelievable players and players that have played in the Premier League and La Liga.
'Pedro Neto and Ruben Vinagre from Wolves played in the first game I played against Portugal.
'There was a player who plays for Valencia, Thierry Correia, he played in the first game and I was playing left midfield at the time so I was against him.
'Trincao, who signed for Barcelona for like £30m after we faced them as well, he was an unbelievable player.
'When we saw the draw and we knew we were coming up against Netherlands and Portugal, we knew it was going to be tough.
'It was obviously an unbelievable experience to play against those players and an opportunity that not a lot of people my age get.
'I knew it was going to be really tough but, again, a fantastic opportunity.'
Breed believes moving from Wessex League Premier Division Fareham to Europa FC could increase his chances of receiving a maiden senior call-up.
He feels making the move to his homeland provides a better chance for him to impress national team manager Julio César Rebas.
Gibraltar begin their Qatar 2022 World Cup qualifying campaign later this month with a triple header against Norway, Montenegro and the Netherlands.
Breed may not get a chance to show his potential with Europa prior to those matches as he is not joining up with his new club until after he plans to fly out on March 12.
But it's not stopped the midfielder hoping his dream of winning a senior call-up will arrive at some point in the future.
'It's definitely the aim for me (senior international call-up) I'd have to say, because even though Fareham was going really well, the only way I was going to break through and be seen by the first team manager out in Gibraltar was to play for a team in Gibraltar.
'It just so happens the top team has come in for me, so if there is any opportunity then that is going to be the opportunity.'
Since being granted official status by FIFA in 2013, Gibraltar have won six senior internationals – but they have lost all 18 of their European Championship qualifiers and all 10 of their World Cup qualifiers.