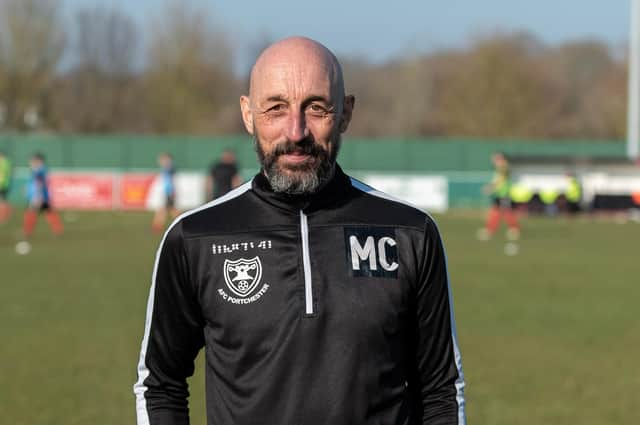 'The position of manager seems to be the least respected position in our game' - Mick Catlin
Catlin and his assistant Lee Molyneaux were informed by chairman Paul Kelly on Monday evening that their services were no longer required.
This followed a run of four successive league and cup defeats, culminating in a shock 2-1 home reverse against lowly Brockenhurst at the weekend.
The Royals had previously lost in the Wessex League Premier Division to Lymington and Cowes, and had also been dumped out of the FA Vase by lower division US Portsmouth.
Despite that losing streak, Catlin admitted losing his job still came as a surprise.
'I thought that we would be given a bit more time to turn things around,' he remarked.
'We had a couple of new signings lined up and were looking to move forward.
'People don't seem to have a lot of patience nowadays.
'Expectations at Portchester are to win the league and get promoted.
'I have been overwhelmed by the number of younger managers at our level who have got in touch to say they also feel under pressure.
'Local football always used to be about enjoyment.
'That seems to have flown out of the window.
'It is a results business and a lot of the things from the very top level of the game has filtered down to the local level.
'Unfortunately, when you are not getting the results the manager and his staff all get tarred with the same brush.
'It is disappointing - the position of manager seems to be the least respected position in our game.'
Catlin took over as first-team manager in November 2018 following the departure of Ian Saunders.
It was a role he had been sharing with Saunders since January of that year.
Saunders had brought Catlin in after the latter had left Gosport Borough a few weeks earlier after turning down a joint-managerial role with reinstalled boss Alex Pike.
At the end of the first season the Royals finished in 13th place. They won only four of their last 19 league games and suffered some heavy beatings - 6-0 at Horndean, 5-0 at Lymington and 4-1 at home to Christchurch.
In his first full season in charge, 2019/20, the Royals were third in the league - nine points behind leaders Alresford Town with two games in hand - when life went into lockdown.
After that, Catlin embarked on a series of summer signings that installed them as one of the favourites to win the league and win promotion to the Southern League Division 1 South.
He brought in a handful of players who had helped Alresford top the table - Luke Dumpsey, Liam Hibberd, Joe Chamberlain and Craig Harding.
Catlin also signed prolific Sholing striker Lee Wort and ex-AFC Totton winger Toby Adekunle.
Since the season started, he has brought in two more ex-Sholing players - Barry Mason and Liam Crook - as well as signing winger Rudi Plummer and Henry Lander.
Expected to be challenging at the top of the table, Portchester were 13 points adrift of leaders Hamworthy United - with a game in hand - when Catlin was axed.
Add in an 'El Creekio' derby loss to Fareham, and the Royals have lost exactly half of their eight league games to date.
Catlin was certainly struggling to field a regular starting XI.
In eight league games, 24 different players had started - including 13 who didn't play in 2019/20 - with three more used as a sub.
While Hamworthy had seven ever presents after nine league games, Royals have none after eight.
Rob Evans and Wort are the only two who have started seven Wessex games.
Of the 14 players who appeared in the last game of 2019/20, against Amesbury in early March, only four were in action against Brockenhurst last weekend - Rob Evans, Ellis Martin, Olly Searle and Josh Hanratty.
Such widespread changes rarely produce consistency in football.
'Maybe we changed things too much from last season,' stated Catlin.
But he added: 'It is disappointing because I thought we were building towards something.
'I am 56 next birthday and I thought the idea might be for me eventually to move upstairs and help a younger manager at the club.
'That was what Lee Molyneaux was brought in for.
'But it is football at the end of the day and we have to respect the decision.
'Everyone knows that I give it a hundred per cent on and off the pitch.
'If that isn't good enough then, so be it.
'I am sure Portchester will get there in the end.'
Catlin is one of the most experienced managers in local non-league football, having also taken charge at Andover, Chichester and Wick.
In addition, he was also assistant manager at Gosport when they reached the 2014 FA Trophy final and also had a coaching spell at Moneyfields.
He would be a big loss to the grassroots scene if he decides not to take up a role at another club.
'Hopefully I will get my appetite back again at some stage,' he said.