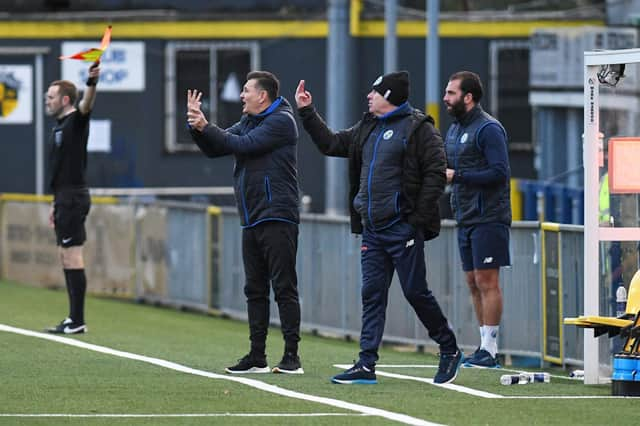 Hawks boss Paul Doswell and assistant Ian Baird give instructions during the home loss to Eastbourne. Picture: Neil Marshall
The Maltese international was a 'massive loss' in Saturday's 2-1 home defeat against Eastbourne.
Magri watched on from the near deserted grandstand, having been laid low by the pandemic for much of the previous fortnight since Hawks had last played.
With Benny Read also unavailable, due to an ongoing shoulder issue which requires an operation, boss Paul Doswell was forced to deploy teenager Christian Rowe - usually a defensive midfielder - as a makeshift right-back.
Josh Taylor on the ball against Eastbourne. Picture: Neil Marshall
Rowe was to endure a torrid 38 minutes, being continually beaten for pace by left winger Greg Luer - who played for Hull City in the Championship a few years ago - and generally looking uncomfortable whenever Eastbourne attacked.
It was no surprise when Doswell took him off before half-time, with Roarie Deacon moved from the left wing to right-back.
'Sam Magri was a massive loss, but he couldn't play - he's been in bed for most of the last 10 days,' explained the manager.
'I think Christian's only played right back for Sparsholt College, and he was exposed against pace today. With hindsight, we shouldn't have played him but he played 25 minutes there against Hungerford and did ok.'
Danny Kedwell breaks forward between two Eastbourne players. Picture: Neil Marshall
Doswell named an attacking bench featuring three strikers - Danny Kedwell, Joe Iaciofano and new man Tony Lee - as well as winger Daniel Ajakaiye.
With Leon Chambers-Parillon withdrawn at half-time, Ajakaiye was handed 45 minutes to impress.
He didn't take his chance, choosing to take his marker on and being tackled rather than attempting to knock the ball past him and rely on his pace.
That was a tactic Luer and Charlie Kendall continually used to good effect against a Hawks defence which Doswell was right to admit was far too open too often.
Roarie Deacon, who was moved to right back in the first half, in action during the home loss against Eastbourne. Picture: Neil Marshall
Hawks are scheduled to travel to Bath City on Tuesday in the league, but that game could be switched to Westleigh Park.
There are fears that bad weather scheduled for Bath will make the Twerton Park pitch - already cut out after the shock weekend FA Trophy loss to Peterborough Sports - unplayable.
The Romans contacted Hawks last week to explain the situation and seem happy to travel to Hampshire - probably on Wednesday - if the league agree to the switch. If they do, it will be Hawks' ninth home league game of the season, compared to just three away.
Doswell will have at least one defender available to him against Bath - George Mclennan. Handed a three-match ban for a straight red against Slough on December 9, the weekend loss to Eastbourne finally saw the suspension completed.
'Eastbourne were better for having played last Tuesday, and we'll be better against Bath for having played today,' said Doswell.
'Even though we lost, it was important to get this game on.'