Moneyfields relishing their underdog tag in Portsmouth & District FA Senior Cup final against Pompey
Moneyfields Women manager Karl Watson has challenged his squad to show they belong at National League level.
Tuesday, 6th October 2020, 4:00 pm
Updated
Tuesday, 6th October 2020, 4:37 pm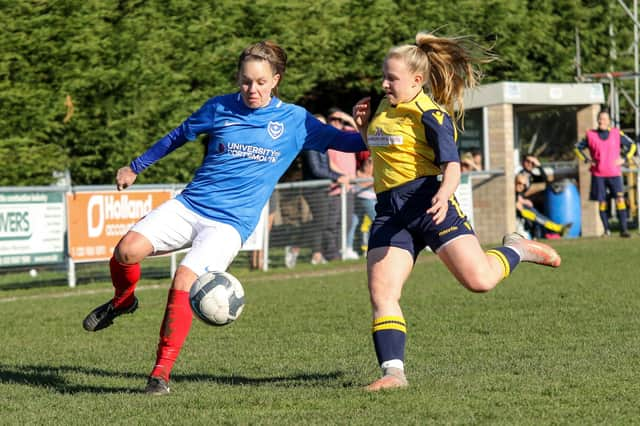 Action from Pompey's 4-1 win at Moneyfields in the semi-final of the 2018/19 Portsmouth & District FA Women's Senior Cup semi-final. Pic: Jordan Hampton.
Moneys take on two-divisions higher Portsmouth for the right to be crowned last season's Portsmouth & District FA Senior Cup winners at Baffins Milton Rovers on Wednesday (7.45pm).
Watson believes Moneyfields can use the underdog tag to their advantage.
He has long spoken about the club's driving ambition to establish themselves as a National League club.
And Watson sees this as an ideal opportunity to show they can be a match for teams at that level when they take on Pompey.
'That's why our pre-season friendlies were all against National League sides because that's where we believe we should be,' said Watson.
'Those are the ones we want to be testing ourselves against.
'Look, we shouldn't be winning this game, they're two leagues above us and we've got no right to win it.
'But we certainly believe that we can. We are the underdogs but that's a healthy thing.
'We're going into it believing that it's there for the taking.
'It'll be an exciting one and the girls are looking forward to it, I know that.'
Moneyfields head into the final having played just one competitive fixture this season - a crushing 8-0 Women's FA Cup win at Shanklin last month.
They were due to host AFC Bournemouth in the same competition on Sunday but that was postponed because of a waterlogged pitch.
Meanwhile, Pompey head into the final on the back of last Wednesday's National League South defeat against Chichester & Selsey.
That was a match Watson and his squad went to watch.
'They're going to be still stinging from the Chi game,' he added.
'They're going to have had the weekend to regroup, recover and talk over things and put it away because they didn't have Cardiff away (on Sunday).
'Whatever happens, it's going to be a cracking game for anyone watching.'
It should hopefully be closer than the last PDFA Senior Women's Cup final in April 2019 when Pompey hammered Horndean 15-0 at Baffins.
Alex Collighan scored five times – including three in the final eight minutes – while Jade Widdows added another four.
Katie James (2), Caitlin Collighan, Emma-Jane May, Shannon Albuery and an own goal completed the rout.
Pompey had won 4-1 at Moneyfields in the semi-final – the last meeting between the two teams.