'Mr Hayling' heads a remarkable hat-trick in Humbugs' Hampshire Premier League thrashing of Sway
Defender Toby Wilson ended up with the match ball after scoring a remarkable Hampshire Premier League hat-trick.
Tuesday, 6th October 2020, 4:31 pm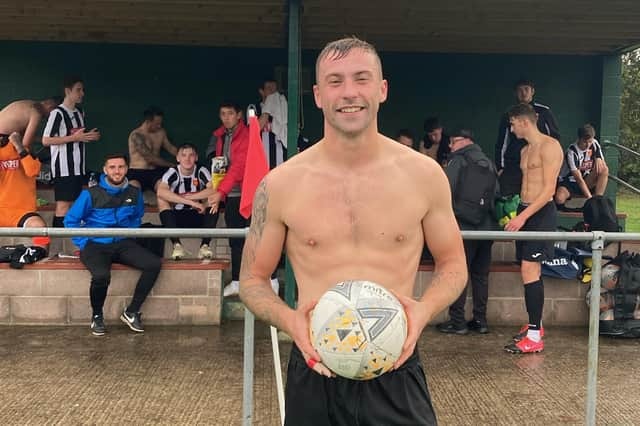 Toby Wilson with the match ball after his hat-trick of headers in a 9-2 Hampshire Premier League win for Hayling at Sway.
The Hayling United centre half notched three times as the Humbugs romped to a spectacular 9-2 Senior Division win at Sway.
It was Hayling's highest victory since entering the HPL in 2014/15 - beating their 8-0 home win against Winchester Castle in January 2018.
All three of Wilson's goals were headers after he had come up for set-pieces.
'The lads call him 'Mr Hayling',' said Humbugs boss Dan Bishop. 'He's actually one of the few players who live on the island.
'We've always known he's a good player, but he's had back problems and that's prevented him having a good run in the first XI.
'He's only 22, but he looks about 40!'
Matt Topple - the only survivor from the side that beat Winchester 8-0 - was among the scorers in the New Forest alongside Sam Neal, Ben Metherell, Joe Boxall and Harry Frost. An own goal completed their record-breaking tally.
'We looked a bit more like the side we were last season,' declared Bishop.
It was their second win in a row following a 5-1 midweek caning of Liss at Hayling College.
Hayling host an intriguing HPL Cup tie against Moneyfields Reserves this weekend.
Moneys have not lost a Division 1 match since entering the HPL last season and Bishop said: 'We won't be taking any liberties.
'Moneyfields are going to have a point to prove, it will be a really tough game.'
Moneys have won five and drawn one of their six league games so far, and last weekend won 2-0 at South Wonston Swifts.
Chad Cornwell and Jake Knight grabbed the goals.