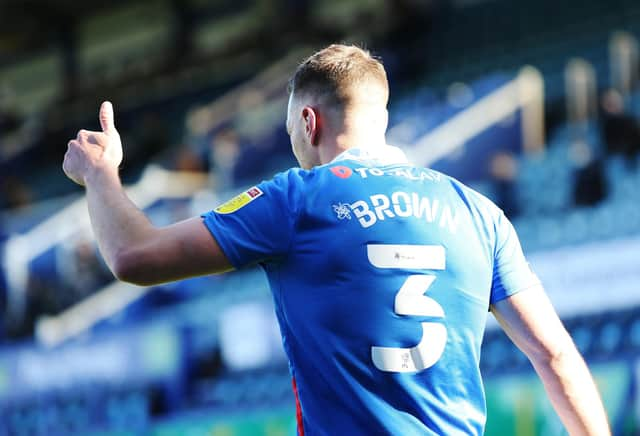 Lee Brown is available for Pompey following a hamstring injury.
Brown has missed the past five games after suffering a hamstring injury against Burton Albion.
The left-back returned to training last week, but wasn't risked against Bristol Rovers or the midweek trip to Accrington.
Cowley's short spell at the Blues has been hampered by injuries within his playing squad.
But with the 30-year-old back fit, Cowley said he was delighted to welcome Brown back.
Not just because of his quality on the pitch or Pompey's ability to revert back to a traditional flat-back four.
But also the defender's presence in the changing room.
'We have missed his character and personality, both on and off the pitch, so we will be delighted to have him back in the squad,' said Cowley.
'There are some good tactical options now with Browny coming back.
'With him fit and healthy, I think we can go to a back four.'
If recalled, Brown and Co will face an in-form AFC Wimbledon side who are all but assured of their League One status for another season.
The Dons haven't lost in their past six games, and have scored 12 goals in their last four home matches at New Plough Lane.
Pompey, who have conceded seven times in their past three outings, will need to be wary of that.
Indeed, Cowley insisted progress would be easier if the Blues could solve their current defensive frailties, with a solid back line serving him well throughout his managerial career to date.
He added: 'They are a free-flowing team and have a lot of attacking threat at the top end of the pitch' he said.
'Ollie Palmer, Joe Pigott, Jack Rudoni.
'They have so many good players going forward.
'They're in really good form, and have found an effective way of playing which suits the players they have at their disposal.
'Football is much easier if you keep a clean sheet.
'It is simpler to win 1-0, than it is 3-2 or 4-3.
'Throughout the six promotions in my managerial career, we kept 27 clean sheets at Braintree, and 30 clean sheets one year at Concord Rangers.
'Our teams have always been built on really solid defences, and that is something we are definitely looking towards.'