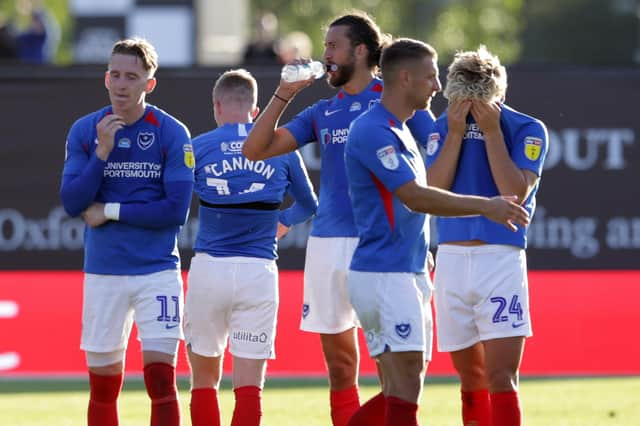 Lee Brown consoles Cameron McGeehan after his missed penalty in the shootout against Oxford Picture: Robin Jones
Ex-Fratton Park midfielder Gary Roberts believes there'll be better sides in the division next term, with the Blues confined to a fourth year in the third tier.
Pompey suffered more play-off semi-final heartbreak after losing on penalties to Oxford United tonight.
Kenny Jackett's men led twice over the two legs but the showdown finished 2-2 after 210 minutes of football.
However, Pompey lost the shootout 5-4 which means they'll now prepare for another campaign in League One.
With the likes of Sunderland, Peterborough and Ipswich remaining in the division next term – along with the three club who will will be relegated from the Championship – Pompey will again face a stiff task to reach the second tier.
And Roberts feels Pompey have missed an opportunity.
The Blues League Two title winner wrote on Twitter: 'Pompey won't get better chance of promotion.. expect the big clubs in the division to be better next season.'
Pompey crashed out of the League One play-off semi-finals against Sunderland last campaign.