Ex-Portsmouth defender: Bobby Robson tried to sign me - but Ipswich chairman John Cobbold urinated on his roses during talks
George Ley has revealed how transfer talks with Ipswich took a curious turn when the chairman urinated on his roses.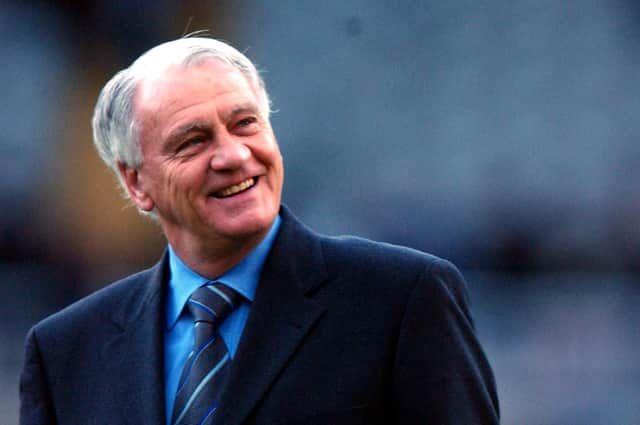 Bobby Robson tried to bring George Ley to Ipswich in May 1970. Picture: John Walton
The Pompey left-back headed to Portman Road in May 1970 for discussions with boss Bobby Robson over a switch.
However, following an eventful day in the company of the First Division club, the move fell through in favour of remaining at Fratton Park.
George Ley made 204 appearances for Pompey, scoring 11 goals. Picture: Wood/Daily Express/Getty Images
However, Cobbold would be inebriated, prompting a bizarre experience.
What unfolded didn't put the Pompey player off joining Robson's team – yet remains one of the strangest moments of his career.
'I was invited to Portman Road for talks. The train journey involved travelling to London, then changing for Ipswich, but when I arrived there was nobody to greet me, so I caught a taxi to the stadium,' he told Played Up Pompey Three.
'I entered the reception area, introduced myself and was led to Bobby Robson's office. Certainly having been left hanging around wasn't too clever from their point of view, but the manager apologised and we set off for a walk into the town for a spot of lunch.
George Ley was inducted into Pompey's Hall of Fame in March 2015. Picture: Paul Jacobs
'On the way, Bobby talked football, telling me how I was needed because the current left-back, Mick Mills, could also operate in midfield. Apparently he was too good to be at full-back, instead that was going to be my role. It was "Mick Mills can do this, Mick Mills can do that".
'So I was walking beside him down these narrow streets, Bobby's continuing "Mick can pass, he can shoot, he can tackle" – and as he said "tackle", we walked around a corner and he bumped into an old lady, knocking her down.
'I looked at him and said "Can he tackle as good as that?".
'After a nice lunch, we returned to his Portman Road office and I was thinking "If you make me an offer much better than what I'm on then I'll sign right now". But he was talking football, football, football, whereas I'm thinking money, money, money.
'Next it was off to see the chairman, John Cobbold, who had a beautiful manor on the fringes of Ipswich, with a wonderful back garden. "He's a good man," said Bobby. "But a strange man".
'So we knocked on the door – nothing, then Bobby opened it and called "Mr Cobbold? Mr Cobbold?". He had already delivered the warning that the guy was a bit of a drinker and hardly ate anything, so could be tipsy at our meeting.
'Anyhow, Cobbold came downstairs, obviously aware of who I was, we shook hands and I immediately detected he was slurring his words. According to Bobby, Ipswich's chairman was a sharp businessman, yet carried out his work in the morning, allowing him to drink in the afternoon.
'On that occasion, he'd clearly had a few drinks. We sat down and Cobbold began to show photographs of him and his family with the Queen, which impressed me, but was continuing to struggle with speech, prompting me to exchange knowing looks with Ipswich's manager.
'Then he wanted to show us around his garden, beautifully landscaped, with a couple of people employed full-time to manage its upkeep. As we moved outside, a noise caught my attention – Cobbold was urinating on some roses, right in front of me!
'Bobby mouthed "He's drunk, he's drunk". I'm serious, I couldn't believe it.
'After leaving the chairman's home, Bobby took me to an area near a river where they were building houses. The club had a director involved in banking, so I was informed that obtaining a mortgage wouldn't be a problem.
'I was extremely encouraged – then we discussed terms. Firstly, I wouldn't be on much more than at Pompey. If that wasn't disappointing enough, I encountered resistance for a bonus should I ever represent England.
'Not that I was expected to appear for my country, but there's nothing wrong with ambition. If I managed to get into the England team, it's good for me, good for Bobby Robson and good for the club, so what possibly would be wrong with my request for a £500 bonus per international appearance?
'His response was "We'll cross that bridge when we get there". Some of my experienced team-mates had long advised that, during contract discussions, all agreements should be written down, never accept someone's word. While Robson's reaction demonstrated Ipswich were lacking ambition.
'I actually signed one of the necessary forms and returned to Portsmouth with another still to complete, but my confidence in the deal had been destroyed.
'Our goalkeeper, Ray Potter, knew Bobby Robson from their playing days together at West Bromwich Albion and I confided in him what had happened during talks and how disappointed I felt over my treatment.
'I think he may have contacted Bobby, because Ipswich's boss rang the club and suddenly raised the issue of the £500 bonus, pledging it would now be in the contract. It was too late, however.
'Just one more sheet required signing to become their property, but I didn't contact Robson again. Instead they rang Pompey enquiring what was happening - and learnt the deal had fallen through.
'I regret it now. The chance to play Division One football had been lost forever over the issue of earning £500 representing England.
'George Smith said to me: "You'll never do that, so what's the point of even asking?". My response was: "Okay, give me £1,000 an England appearance then!".'
Ley made 204 appearances and scored 11 goals for Pompey from May 1967 until September 1972.
A message from the Editor, Mark Waldron
The News has launched a new subscription offer which gives you unlimited access to all of our Pompey coverage, starting at less than £1 a week.