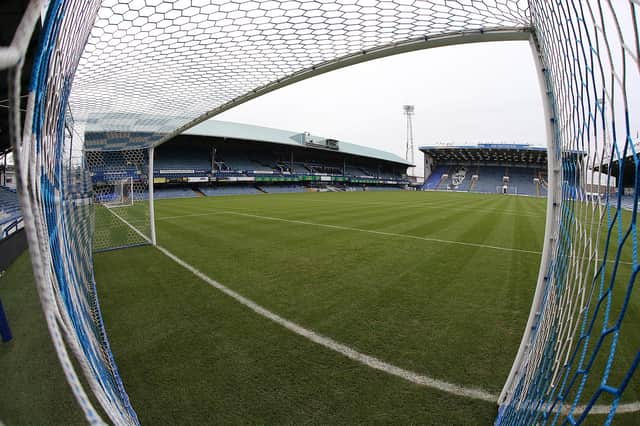 Pompey could extend their interests beyond Fratton Park. Picture: Pete Norton/Getty Images
And it was revealed something could be up and running within 'the next 3-4 years' as the club explores possibilities.
It's a topic that has understandably got supporters chatting on social media.
The majority of the comments posted on Twitter and Facebook appear to back the idea.
Some are concerned how Brexit might impact such plans.
Meanwhile, others believe the Blues need to concentrate on the here and now – namely, this season's League One promotion push.
Kevin Keaton, for instance, said: 'Let's concentrate on getting promoted', while Yoni Smith's opposition concentrated on the club's other current projects.
Smith said: 'I try to support the club and owners as much as possible.
'I understand it's about sustainability. But this (stuff) about affiliate club.
'Too much talk from the club. 3 years planning on stadium then an application dependent on external parties.
'No development squad. Nothing more done to training ground.
'Too much talk. I get it if we can't afford anything more - but just be honest.'
Those keen on the idea included Jake Waterfall, who said: 'Affiliate clubs are a great idea, share players and resources and development it can only be good.
@rik_may agreed, saying: 'Always said having a strong link with a foreign club can only help.
'Just think you would get so many more scouted players.
'Imagine if the other club saw a great player for us but they didn't need any more players in that position?'
@abbygal1964 said is was a 'no-brainer' as far as she was concerned.
'If we're in a stable financial position to trial it for a while to see how it works, what have we got to lose?,' she added.
Meanwhile, Ben Jones even recommend joining forces with German side St Pauli.
He said: 'Great idea and if it could be St Pauli from Hamburg then I could die happy... align both clubs ethical codes too.
'Great club, amazing fans, great ethos, financially sound.'
Terry Matthewson suggested linking up with a club on the other side of the Irish Sea, saying: 'Every chance it would be a club in Ireland with all our previous links.'
Yet Peter Loten came up with a massive stumbling block if those suggestions were to be followed through.
He said: 'If we are looking to affiliate with a minor club I would suggest it being within the UK.
'Brexit makes it difficult in the EU.'
And Jim Beck agreed – although he remained impressed with the concept.
Commenting on Facebook, he said: 'With the Brexit situation, probably would lead to additional cost and bureaucracy like every other business but it's a decent idea.'
A message from the Editor, Mark Waldron
The News has launched a new subscription offer which gives you unlimited access to all of our Pompey coverage, starting at less than £1 a week.
You can subscribe here to get the latest news and transfer updates from Fratton Park - and to support our local team of expert Pompey writers.