Mick Tait: My Portsmouth life was perfect, it killed me having to walk away and join Reading
Mick Tait has revealed how being denied the chance to represent his beloved Pompey in Division One 'killed' him.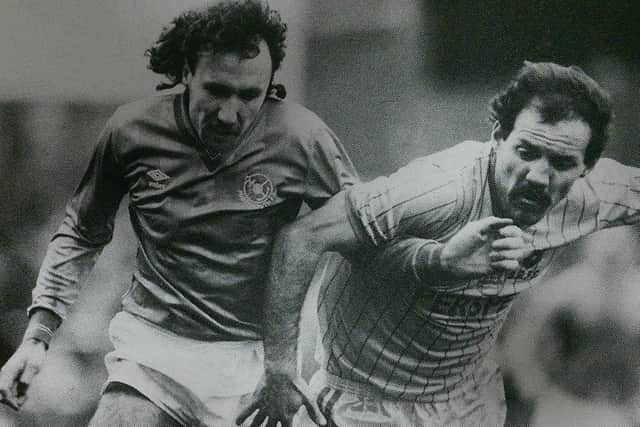 Mick Tait (left) spent seven seasons at Fratton Park, winning two promotions and earning entry in the Pompey Hall of Fame
The versatile performer amassed 284 appearances, 31 goals and two promotions during seven seasons on the south coast, establishing himself as a hugely popular figure.
Yet, having helped Alan Ball's side reach the top flight in May 1987, Tait was offloaded to Reading.
Ultimately, his playing career would end without him ever appearing in Division One.
'I was a substitute against Sheffield United in the final match of the 1986-87 season – and little did I realise it would be my last Pompey appearance,' he told Played Up Pompey Three.
'My contract was expiring that summer and, in those days, at that point it automatically kicked into a weekly deal, with the club still possessing ownership of you. I was actually discussing a new contract with Pompey, but the alarm bells were ringing.
'Everyone kept details of their wages to themselves, but that summer the players started to talk about fresh deals they had been offered and I knew things weren't right.
Mick Tait was inducted into the Pompey Hall of Fame by former team-mate Alan Knight in March 2010. Picture: Steve Reid
'I discovered I had been tabled different terms to everyone else from that promotion side, so the vibes were obvious. Then Bally relayed to me that John Deacon was keen to sell me to Reading as they were offering decent money – I was told I had to go.
'When I spoke to the chairman about the situation, he informed me it was the manager who wanted to offload me! It wasn't something I was willing to get in the middle of.
'In my mind, I could have stayed at Fratton Park and probably not have played - which I couldn't have stomached. I wasn't in football to languish in the reserves or sit on the bench, I would never have stayed anywhere I wasn't playing.
'I sensed I wasn't going to be a big part of our first season back in Division One. As it turned out, despite Noel Blake and Kevin Ball being sidelined through injuries sustained during pre-season, I still wasn't considered for the opening three matches because of my contract situation – then Bally signed Malcolm Shotton from Oxford United.
'It was clear I was no longer wanted, while Reading boss Ian Branfoot was on the phone all the time, he was desperate. In the end it gets to a point when you know you have to go – and I was in that situation.
'Bally relayed the £50,000 Reading deal to me and I was told to carry out my negotiations with them. In August 1987, my seven-year Fratton Park career was over. That's football, you have to get over these things, it's life, you move on.
'I'm quite a positive person, but the opening two months of training at Reading and commuting from my Denmead home were difficult.
'I never played in Division One during my career, Pompey represented my only chance, and having to walk away from that pretty much killed me. At the age of 30, I realised I wasn't going to get another opportunity – but you know when your time is up.
'Missing out on top-flight football is a regret, I would have loved to have experienced it, but I try not to look back, I always focus forward. I've done okay in life through remaining positive about the next challenge.
'When I initially went to Reading, I couldn't believe what I'd done. I could have stayed at Fratton Park – but then would correct myself, I wasn't going to play for Pompey so what was the point of beating myself up about it? Just get on with things.
'As it turned out, I met a new group of lads at Elm Park and made good friends. We won the Simod Cup that first season, defeating Luton Town at Wembley 4-1 in March 1988 – with me pushed into attack.
'It was perfect at Pompey, I can honestly say that. I know it sounds corny, but I never regretted one moment of my career there. Every day was something to look forward to and it went on and on and on.
'It felt like constant success, two promotions amid seven years of getting better and better and better. I make no secret that Pompey was the best part of my career.
'I had nothing to complain about, from the moment I got there to the moment I left, it was a fantastic time. There were the people I met, the team-mates, the supporters, I was very lucky to have that time among them.
'When you are living among the supporters, you know how they feel, their emotions become yours. What a wonderful place Portsmouth is.'
Played Up Pompey Three is priced £18.99 and currently available from Waterstones, the Pompey Store and The Petersfield Bookshop.
For player-autographed copies, with the signatures of Benjani, Richard Hughes or Dave Munks, email [email protected]
A message from the Editor, Mark Waldron
Thank you for reading this story. The News has launched a new subscription offer which gives you unlimited access to all of our Pompey coverage.
Every subscription helps us continue providing trusted, local journalism on your behalf for our city.