Physio supports EFL circuit breaker with Portsmouth, Sunderland, Ipswich and Millwall having positive coronavirus cases
The physio of Pompey's League One promotion rivals Ipswich believes the EFL would benefit from a suspension of the 2020-21 season.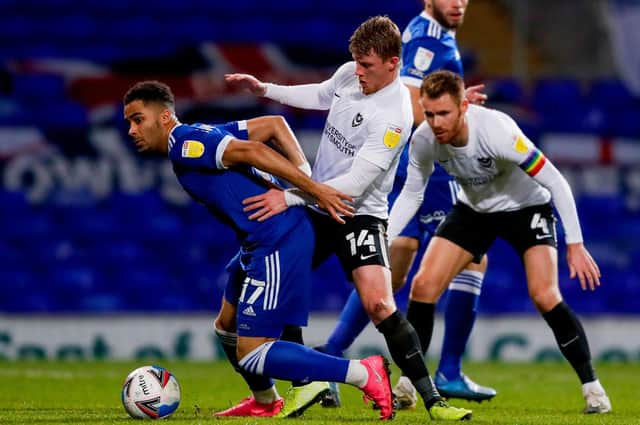 Pompey's Andy Cannon in action at Ipswich. Picture: Simon Davies
Five clubs in the third tier currently have positive coronavirus cases amid a new strain that has mutated.
Jack Whatmough and two other players have tested positive for Covid-19 at Fratton Park.
Bristol Rovers haven't played their past two matches for the same reason.
However, Ipswich's physio, Matt Byard, reckons that a circuit-breaker period in football could prove advantageous.
Speaking to the Tractor Boys' website, Byard said: 'In previous cases at clubs, the confirmatory source can normally be isolated down to a coach journey or a lengthy meeting indoors. We however, have had the same protocols in place since we started pre-season training.
'I have looked at every avenue and the only scenario for transmission has to be our match against Burton last week and because it seems to have been passed on in a matchday environment, it is confirmation of a new development. We still have stringent protocols in place in terms of use of the dressing-rooms, I might add.
'We are doing things the right way. We always have done. Players and staff deserve a great deal of credit as they adhere routinely to the guidelines and the new way of operating. This has been thoroughly supported by senior staff and executives.
'This new strain of the virus clearly transmits far quicker than the original Covid strain and we have the data and symptom profile that confirms that is what we are dealing with here.
'We have tested all the playing and coaching staff and from the results, we can detect the level of infection and see the patterns emerging, however it's the speed of the transmission that tells us it's the new strain.
'We will be re-testing all the staff on Wednesday who have previously tested negative and I do have concerns that there will be more positive cases. It's important to recognise the timing of testing is absolutely crucial in determining the diagnosis. A wrongly timed test can very likely produce a false result. We have to very closely determine potential transmission risks and consider the period of incubation before becoming infectious.
'We have been complimented by the EFL for the procedures we have had in place at the training ground and on matchday - and that is one of the reasons they have become very concerned over the latest developments.
'I know the EFL are looking at bringing in extra measures, with maybe more testing for example. I have always supported routine testing to secure a return to playing programme.
'Personally, with so many clubs affected by this presently and this new strain development, football may benefit from a circuit breaker before a return to playing securely.'
As things stand, only Premier League clubs are regularly testing players and coaching staff due to the costs.