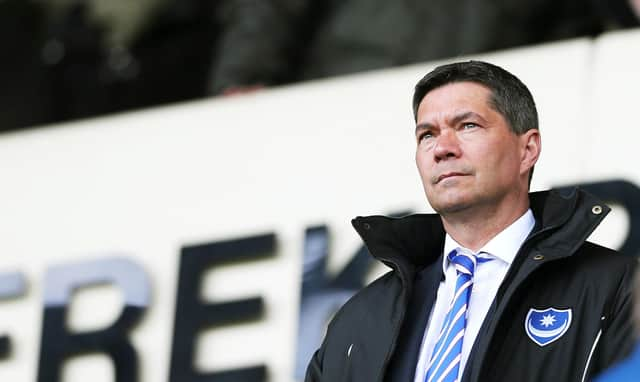 Pompey chief executive Mark Catlin believes player wages will fall following the coronavirus crisis
The financial landscape remains bleak for football clubs outside the Premier League, particularly with behind-closed-doors matches for the foreseeable future.
That scenario will continue to devastate the traditional revenue streams, such as match-day income through gate receipts and hospitality.
As a consequence, Catlin believes cash-strapped clubs will be unable to offer the level of contracts players previously enjoyed.
In turn, that will reduce wages on offer for fresh deals, either with renewals or new arrivals.
Pompey's chief executive said: 'The world is going to look a different place in regards of player contracts and the levels they are at.
'What might have seemed an average League One salary pre-Covid 19 might now seem "Wow, are you really paying that?". Suddenly it may seem to be a crazy contract because there's still the uncertainty of when we are going to start.
'How can you budget in any business with no revenue coming in? It is going to dictate the salary levels of players.
'I would be amazed if salary levels in football players doesn't come down as a result of Covid-19. I think it has been a massive wake-up call to football as an industry, along with a lot of other sports.
'How can you at this moment be offering players contracts when you don't know when any money will be coming in? It's foolhardy, you have to see what the market looks like before decisions like that are made.
'Obviously you need a plan, but you can't be making those decisions at the moment. And the ones that are out of contract, at what level are those players now offered deals?'
On Saturday, the EFL reiterated their intention of resuming the 2019-20 campaign as soon as possible.
League chiefs had previously outlined plans for the season to be completed in 56 days, with June 6 touted as a possible return, albeit behind closed doors.
Catlin added: 'We all want to start preparing budgets based on supporters coming back into the ground, otherwise you'll have a business with no income coming in.
'In the meantime, how can you budget what you are going to pay players?'