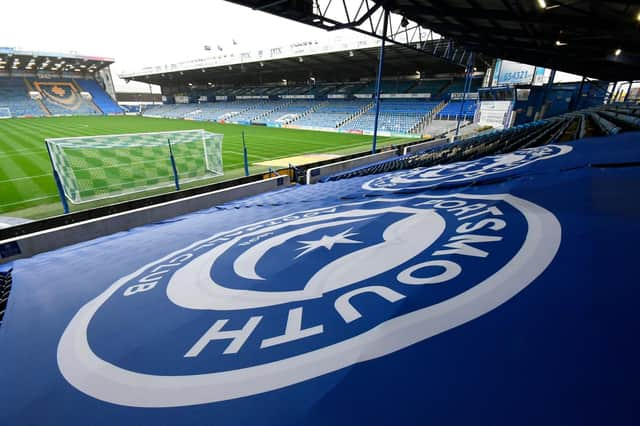 Fratton Park. Picture: Graham Hunt
Here you can find all the latest news from Fratton Park ahead of the play-off clash against Oxford United as well as news from around League One – all in one place.
Pompey live: All the latest from Fratton Park and countdown to play-off showdown with Oxford United
Last updated: Friday, 26 June, 2020, 17:05
Jackett speaks on interest in Scottish goal machine
How much Pompey paid agents this season revealed
Oxford United skipper speaks ahead of Fratton clash
Welcome again!
Welcome again to all the latest news from Fratton Park and League One as we take another step closer to the play-off showdown with Oxford United. We'll be giving you all the Blues news you need throughout the day - all in one place
Kenny Jackett's position as a player continues to stay away from Pompey's training ground
Kenny Jackett continues to respect the stance of the Pompey player who's yet to return to training.
We've always wondered why he let it happen - now Steve Cotterill's had his say over Marlon Pack's exit
Steve Cotterill has revealed why he discarded Marlon Pack while Pompey boss.
Fair player to Pitman & Co. Out of the first-team picture and on their way - but still making themselves available for the play-offs
Brett Pitman could easily have passed up the offer and started scouring potential clubs for his next move.
Pompey paid the fourth highest total to agents in League One. Full story below.
Pompey paid out £220,367 in agent fees during 2019-20 – the fourth highest in League One.
Kevin Jackett has spoken on reported interest in Scottish goal machine Kevin Nisbet for the first time
Jackett said: 'We were asked about him (Nisbet) last year.
'We've got strikers on contracts here anyway.
'If we're looking at Ryan Williams, Marcus Harness, Ellis Harrison, Reeco Hackett-Fairchild, John Marquis and Ronan Curtis - there's six forwards there for our front three positions.'
Kevin Harper Football Genius!
We've just recorded our latest Pompey Talk podcast and it's a belter as we're joined by former Blues winger Kevin Harper!
Harper gives some fantastic insight into his five years at Fratton Park as he tells of how Tony Pulis was knived in the back.
There's also the story of the Scot turning things around with fans and his appreciation of the Blues to this very day.
Harper also gives a fascinating assessment into the racism he believes black managers encounter in football.
It's all on Pompey Talk - out later today!
The Oxford United skipper believes there's a massive advantage up for grabs at Fratton Park next week
Oxford United skipper John Mousinho believes whoever comes to terms with playing at an empty Fratton Park will snare a 'massive advantage' when the play-offs get underway.
Andy Petterson has been giving an insight into Yoshi Kawaguchi's time at Pompey
He told The News: 'Yoshi came in and apparently was the David Beckham of Japanese football at the time.
'I feel sorry for him because he was a very good goalkeeper who worked so hard in training.
We would finish and say "Yoshi, we're going in now" but he'd reply "No, no, kick some more balls at me". He just wanted to work, work, work.'
Controversial technology in play for the play-offs!
Hearing that goal-line technology is set to be used against Oxford United next week in the play-offs.
Hawk-eye of course is under the spotlight after it failed in the game against Sheffield United and Aston Villa last week.
Full details here tomorrow!