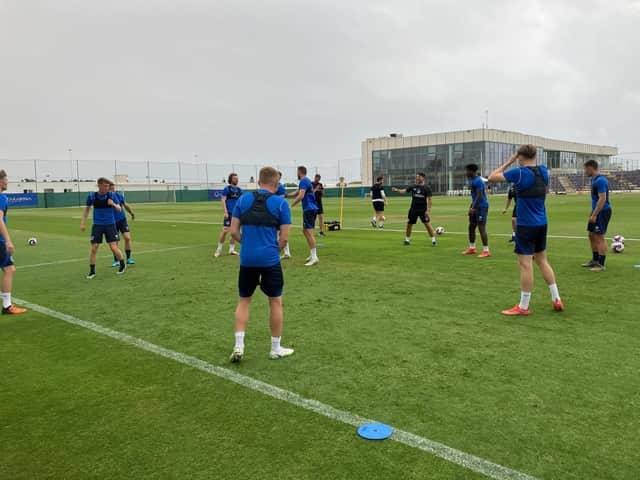 Pompey training today at the Pinatar Arena in Murcia
We're live from Pompey's Spanish training camp in the Murcia region of south-east Spain where where The News will be bringing you live updates, video, insight and interviews throughout the day.
The players are due down for breakfast at 8.30am Spanish time and then it's a short walk from their hotel to the Pinatar Arena for the first of two sessions today.
Stay with us for all the latest.
LIVE: Pompey's Spanish pre-season training camp
Last updated: Tuesday, 05 July, 2022, 17:30
New signing Zak Swanson trains with new team-mates
Live updates and insight from Pompey's training base in Murcia
That's a wrap
That concludes today's live blog with the players warming down in the pool. See you later!
Time for Nicky Cowley's iPad!
Afternoon update from the Pinatar Arena
And some positive injury news
Reeco Hackett and Denver Hume have handed Pompey a double injury boost.
Confirmation a trio of triallists have departed
Pompey are not following up interest in three of their triallists.
Back for the second sesh at the Pinatar Arena - and it is HOT!
Triallist news
Danny Cowley has also been providing a futher update to the triallist situation, further to us reporting none of the weekend triallists are in Spain. More to come shortly at portsmouth.co.uk.
Cowley on working the players hard
'We maybe haven't always been in a poisition at our training ground to be able to do double sessions.
'We have the facilities here to allow us to train how we want to.
'There's no shortcuts to where we have to go - we have to do the work.'
Cowley on Spanish camp
'It's been good. We got here at lunchtime yesterday and the boys did a gym session yesterday.
'We've had a technical session this morning as a gradual way in and later it will be more transitional, looking at the counter-attack moment and counter press.
'We know we have some supporters flying out who we are looking forward to seeing too.'
DC speaks
Danny Cowley has spoken and given his thoughts on his new signing Zak Swanson.
He said: 'Zak's joined us for the trip and he's someone we've tried to sign over the past couple of weeks.
'He comes in from Arsenal and he really fits the remit of the type of players we're trying to bring to this club.'