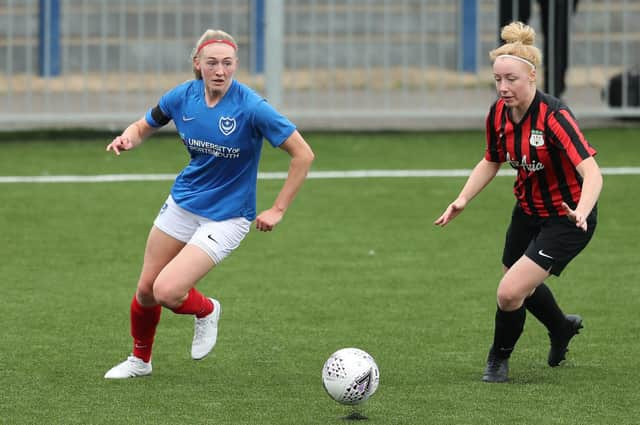 Rosie McDonnell, left, in action for Pompey Women against Ebbsfleet earlier this season at Westleigh Park. Picture: Dave Haines.
But the Pompey Women's defender could never have envisaged being faced with what she and her QA Hospital colleagues have encountered over the past year.
It's now almost 12 months since the UK was plunged into a first lockdown with the coronavirus pandemic taking a previously unimaginable vice-like grip on all aspects of society.
At that stage, McDonnell, 24, was just six months into her nursing role at QA having qualified in September 2019.
Rosie McDonnell wearing her PPE equipment on a shift at QA Hospital.
Yet, suddenly, she was not the only one learning the ropes with fellow staff tackling an epidemic they'd previously never been faced with.
McDonnell, now with 18 months experience as a qualified nurse, admitted it's been a bruising battle to have witnessed so closely - but one the nation might finally be getting the better of.
'It's been a bit of a whirlwind of a year,' she reflected.
'I got about six months of normal nursing time then Covid came.
Rosie McDonnell, second left, with fellow Portsmouth Women players after a goal against Gillingham last October. Picture by Dave Haines.
'It's been difficult. You could never really have expected that this would have happened.
'Nursing is a notoriously steep learning curve in the first year anyway, so it sort of felt like everyone was on a similar level.
'We were all nervous and learning new things, it wasn't just the new guys, everyone was a bit on edge.
'It's come and gone in waves, it's not been like full on the whole time, but it's still there and bubbling and things are getting a little bit better.
Rosie McDonnell pictured by professional photographer Femi Olaiya for a series of key workers' images for last year's Portsmouth Heroes Project.
'There is a general mood that things are easing off a little bit. Obviously, with the vaccine coming as well we're hoping that there won't be another spike.
'Things are finally looking positive which is nice to see.'
Bradford-born McDonnell, who is part of the Royal Navy Nursing Service, has gone from working on wards to Covid swabbing and vaccinating while she is now pursuing her passion on the critical care unit.
She was right in the thick of things on the frontline during the first wave but after rupturing her left medial cruciate ligament playing for Pompey against Crawley in November, her role became more office-based while the second wave brough fresh lockdown restrictions.
McDonnell's recovery from that major setback has been a slow one but she's now able to walk more freely again and provide her services back on the wards at QA.
'It's been horrible, to be fair (after MCL injury),' she said.
'I lost my ability to go out running, to do my exercise, and the country was shut down so there was no football, and I've not been able to do my primary job either.
'It's like my life has been turned upside down by such a small thing.
'The experience of the second wave has been a little bit different for me but all my friends are still working at the hospital and I've got an idea of what it's been like from them.
'For those guys, it's definitely been a lot more taxing than the first wave was.
'The vaccinating has been good, it's been a nice feeling to do something proactive for a change.
'That's been a really good experience, it's nice to see people coming in positive and looking forward to getting the jabs.
'It feels like we're getting there. I've just started on the critical care department and we're starting to see empty beds now. We're into the rehab phase of it all so it's looking like things are getting there.'
McDonnell is currently continuing her work at QA. But having gained the required year's experience as a nurse, she could be called for naval deployment in the future.
When the former Coventry United Ladies player returns to full fitness, it could make it difficult to juggle her career and continuing to play football.
McDonnell acknowledged it must be her nursing work that comes first, although she still wants to turn out for Pompey as much as possible with the current hope of returning from injury in time for the start of 2021/22.
'It's a bit of a blurred one (football future) I tend to just take things season by season.
'Football is a massive part of my life but, at this moment in time, my career comes first because that is what pays the bills.
'I do love nursing and I want to go as far as I can with that, so I think in some situations football might have to go on the backburner if a deployment came up or something like that.
'It's not the easiest of jobs to juggle with.
'A lot of the girls I played alongside, a lot of them were teachers or coaches, which mixes quite well with the football lifestyle as you get evenings and weekends off.
'Sometimes trying to manage the shift work with fixtures or training - I might have to not get to a training session every so often and I've missed a couple of fixtures in the past because I need to cover a couple of shifts at work.
'But it's something I want to continue as much as I can and still have in my life for as many years to come.'
McDonnell might have been on the sidelines for four months now but she's actually only missed just a single Pompey match in that period.
The women's game from steps 3-7 has been put on hold because of the coronavirus pandemic since December and Jay Sadler's side have yet to play a fixture in 2021.
They were boosted by the news that the Women's FA Cup is being restarted, with Pompey hosting Cheltenham Ladies in the second round at Westleigh Park on Sunday, April 4.
The winners host Crawley or Gillingham with a tie against Arsenal - currently fourth in the Women's Super League - awaiting in the last 32.
As things stand, there remains uncertainty over whether steps 3-7 will be restarted for clubs to complete their respective league seasons.
But despite McDonnell's long-term injury meaning she'd have missed a large chunk of the campaign, she still has frustrations.
'A lot of people have said at least I've not missed any football with the pandemic and me being injured,' she remarked.
'I almost wish like it was still running because it's still got that social element to it, so I'm massively looking forward to football coming back whether I'm injured or fully fit - either way suits me.
'I think once I get past that threshold and I can run again I know I'll just be out running everyday.
'With the knee injury it's going to be a difficult one for a season to come, making sure it's fully ready and as strong as it can be before I go out for my first game.'