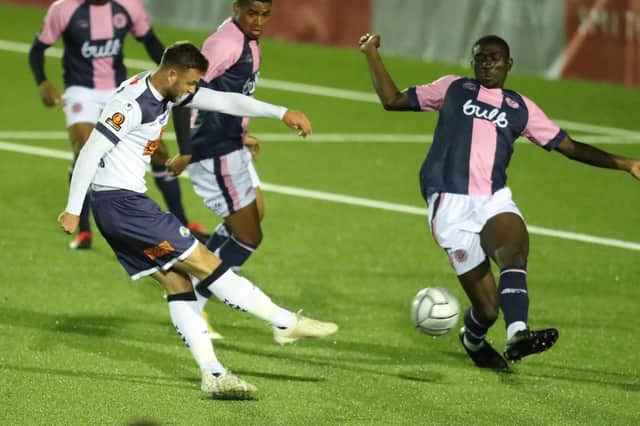 Hawks in action against Dulwich Hamlet last November - the south London club are one of three in the National League South currently refusing to play after the Government said they had to take out loans to cover January, February and March. Picture by Dave Haines.
Dulwich Hamlet are one of three South clubs that are currently refusing to play league games following the lifting of a two-week league-imposed suspension last weekend. The others are Slough and Chippenham, whose home game against Hawks next Tuesday is almost certainly going to be postponed.
Hamlet chairman Ben Clasper said: 'Ultimately, the league was suspended for two weeks to achieve one thing – to go back to the Government and get the clubs funding to keep them going, as the league agreed there was no viable option for us to carry on.
'The competition set the parameters when we started the season, that we would either have crowds or grant funding.
'But they never contacted us to say 'we failed, sorry'. Instead, they sent out a vote form and then expected everyone to start playing again. But if we couldn't play two weeks ago, how could we possibly play now?
'They keep quoting rule 8.39 which threatens expulsion if you don't fulfil a fixture. We have to defend our position – we're not refusing to play, you [the National League] called the suspension and haven't fixed the problem, so the suspension should continue.'
Dulwich have so far played just 13 out of the 40 matches which would represent completion of their South season.
Even if they returned to action this weekend, they would end up playing twice a week for most of the 16 weeks that are left before the campaign is due to finish on May 29.
A vote has been put to all 66 National League clubs of its three divisions on whether to cancel the season. Hawks have voted to contuinue, but Clasper is angry that his club are expected to carry on playing until the result of the vote is known.
'When the general manager of the league was asked why the suspension was not being carried on while they wait for this vote, his answer was if people drag the vote out for four weeks then the season won't be able to be completed,' he said.
'But in the National League North, Darlington have played two games fewer than us [11], and as of this week they have to play twice a week every week to finish the season. One more interruption and they're into three games a week territory.
'Surely then you have to start thinking 'look, we're not going to finish it'.
'Almost every other club supports the stance, but a tiny minority will quite happily beat everyone up and bankrupt people by forcing them all to play.
'In the middle you've got clubs that have the means to continue but don't want to see damage to others, and Dulwich Hamlet are in the boat of we want to carry on but we can't.
'If we do, we'll get into debt, and the league's rules state that if you have insufficient funds to finish a season, they can expel you.
'We're already in that position.
'There's no way we can comply with the league's Catch-22, so the only rule we're going to abide by is to protect the long-term future of the football club.'
Clasper told the Southwark News: 'There's two reasons why some clubs can afford to play: Some have independent means and are run by wealthy individuals, and another is that they got more money than they were expecting in the ridiculous October to December distribution scandal.'
That is a reference to the way the National League handed out the £10m of National Lottery funding. As one of the five best supported clubs in the sixth tier in 2019/20, Dulwich were given £36,000 a month for three months.
But some clubs in the National League who averaged smaller crowds than Hamlet banked £84,000 a month over the same period. Most clubs in the South - including ones which averaged under 700 last season - received £30,000 a month.
Clasper was angered by a St Albans FC tweet earlier this week saying there were looking forward to welcoming Dulwich on Tuesday - even though Hamlet had made their position clear prior to last weekend that they would not be playing until further notice.
'One of the punishments for not fulfilling a fixture is that points are awarded to the other team, so what you're starting to see now is clubs saying they were ready to play and it's the other club's fault. 'They forfeited the fixture, so can we have our three points?'' said Clasper.
'St Albans don't get great crowds, so they got a tonne more (National Lottery) money than they were expecting.'
Like many clubs at their level, Dulwich have had players test positive for Covid in recent months - the club were forced to call off games in early January at a time when the South's entire fixture list was being savaged by Covid-related postponements.
Clasper explained: 'We had a Covid issue happen at a game (Hampton & Richmond Borough on December 28) that would've been caused by somebody asymptomatic. No one did anything wrong, but it hit a few of our players, and some of them have been really unwell.
'We've put it to them (the National League) in writing that we're not going to put our players or physios in a position where we compel them to play, but it falls on completely deaf ears.
'It's this idiotic determination to continue. They'll get you onto a pitch whenever and how often they can.'