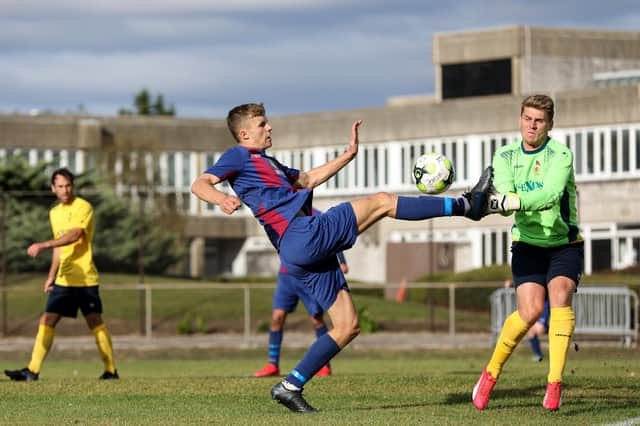 Andrew Todd in action during US Portsmouth's 5-1 Wessex Division 1 win over Downton last September. Since the start of the 2019/20 season, US have the best points-per-game ratio of any club in their division. Picture: Chris Moorhouse
US Portsmouth have thrown their support behind a novel plan to restructure non-league football and avoid the need for a second successive null and voiding.
'Project Non League' is suggesting that the 2019/20 and 2020/21 tables at steps 3-6 of the non-league pyramid are combined.
The most successful clubs would win promotion, while under their plan no clubs would be relegated.
Also, the plan would allow for the FA's restructure of non-league football to go ahead. The restructure - originally supposed to be in place for this current season - would see an eighth division created at step 4, an extra two divisions created at step 5 (from 14 to 16) and the reduction in divisions at step 6 (from 20 down to 17).
With the non-elite non-league season currently suspended due to the national lockdown, there are fears it will be cancelled by the FA for the second year running.
In a nutshell, this is Project Non League's grand vision, based on combining the 2019/20 and 2020/21 seasons using a points-per-game methodology.
The top team in each of the four step 3 leagues (locally, the Southern League Premier South) to be promoted, plus the two teams with the next best PPG ratio across the divisions.The top team in each of the seven step 3 leagues (locally, the Southern League Division 1 South) to be promoted.The top two clubs from each of the 14 leagues at step 5 level (including the Wessex Premier) would be promoted. That would make enough clubs to form the eighth division the FA are keen to bring in at step 4 level.The top three clubs from each of the 20 leagues at step 6 level (including the Wessex Division 1) would be promoted, plus the next best 10 teams on a PPG basis across all the divisions.
'There is no perfect solution to the pandemic, but this is the fairest,' a Project Non League statement said.
Under the plan, US Portsmouth would win promotion to the top flight of the Wessex League. Top when the 2019/20 season was cancelled, they are currently fourth in 2020/21 but have the best PPG ratio in their division since the start of last season.
'It's our last roll of the dice,' said US boss Glenn Turnbull.
'I don't see how clubs would not support it.
'It makes perfect sense to me, but I know I'm 100 per cent biased.
'It rewards the clubs who have been continually on the mettle.
'If they want to be fair and transparent, this is the only way to do it.
'It's a very pragmatic thought.
'But, as always, too many cooks could spoil the broth. We supported the idea on social media and we've already had some backlash, saying 'last season was null and void'.
'As in life these days - you've seen what's happening in America - you will polarise people if you have a different view.'
Under Project Non League, Christchurch and Lymington would win promotion from the Wessex Premier to the Southern League as they have the best two PPG ratios since August 2019.
'It's not perfect,' said Turnbull. 'I don't think anything will be perfect, but in life there are winners and losers and I've always hoped that in the end fairness levels itself out.
'Null and void would just be totally unfair.
'It just can't be allowed to happen.'
Turnbull is hoping that even clubs who don't stand to benefit if the FA sensationally decide to adopt Project Non League would back the plan.
'Even if everyone who stood to win promotion backed it, we'd still need other stakeholders to add their support,' he admitted.
'We'll still need a lot of other people supporting it and telling the FA to see sense.'
Project Non League has received backing from former Premier League stars on Twitter since being launched towards the end of last week.
Ex-England striker Ian Wright tweeted: 'This seems fair given how many games have already been played over the past two seasons Non league deserve a solution that doesn't leave our teams abandoned again.'
Ex-Blackburn Rovers star Chris Sutton also retweeted, adding: 'Really interesting proposal this... two seasons null and void really isn't on.'
Turnbull would also support pausing the 2020/21 season as it stands, restarting in August and playing the season to a conclusion.
'That's logical as well,' he said. 'I'd certainly take that over null and void again.'
It is not only US' league season currently on hold, but also their record-breaking FA Vase campaign.
They are due to host Christchurch in the last 32, while Fareham still have to go to Plymouth Parkway for a delayed third round tie.
'We haven't heard anything about the Vase,' said Turnbull. 'There's no point expanding energy thinking about it - what will be will be. We can only control the controllables.
'But I'm sure there's a desire in the FA to finish the Vase, it's a very prestigious competition for them.'