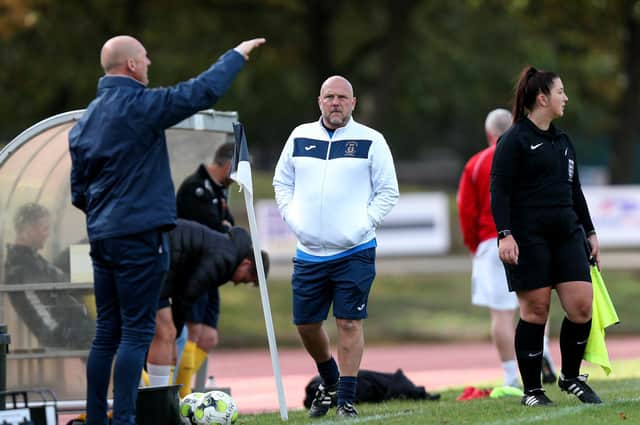 US Portsmouth manager Glenn Turnbull. Picture: Chris Moorhouse (260920-45)
Turnbull, in his first season as first team boss, guided US to the top of the Wessex League Division 1 table in 2019/20.
They were storming towards a first ever promotion - having entered the Wessex in 2004 - before life in lockdown scuppered that dream.
Earlier this month they recorded the greatest result in the club's history - a 2-1 FA Vase success at higher division AFC Portchester.
It was a bitter-sweet day for Turnbull, who was left envious after seeing the off-field set-up at The Crest Finance Stadium.
'On the pitch, we're a match for anyone,' said Turnbull.
'But off it there's a huge gulf between us and some clubs.
'Portchester is unbelievable, and Baffins is unreal as well.
'Look at Fareham, I was there the other day (watching USP's reserves) and they had a room full of washing machines and tumble dryers.
'When we won at Romsey the other night I had to take all the kit to a launderette in my lunch hour, and I picked it up a few days later in another lunch hour.
'People don't understand about these sort of things.
'At Moneyfields they've got a big room with lots of kit, training tops, water bottles, everything.
'I was like a kid in a sweet shop - all we have is 18 water bottles with a piece of white tape with the players' names on them!
'We're a bit Wimbledon-esque in comparison to the other clubs.
'We do have a great spirit and camaraderie, but it's not sustainable.
'It might be okay for two years, five years, maybe 10 years, but we need foundations to build on.
'I know Wimbledon were in the top division for a while, but where are they now?
'Portchester might go up this season, or next season, or in five years time, but when they do they will be ready.
'It might take Shaun (Wilkinson) a few years to get it right at Baffins, but when he does they'll be ready to go up as they have all the foundations in place.
'It will be seamless when they do go up.'
Clubs like Portchester and Baffins have many teams at junior level, while USP only have an under-18 side.
'We need that pathway to the first team,' said Turnbull.
'We need more youth teams, and I don't mean just an under-16 side.
'I hope we can keep the current squad together as it would be draining to have to rebuild it.
'You have to have people helping you off the pitch - you need the bloke who's happy to come and fork the pitch in midweek and the old lady who's happy to run the tea hut.
'Carole runs our tea hut instead of going to watch her son play at Eastleigh, that's unbelievable - and her husband Terry helps us out as well.
'Our secretary Bob (Brady) is phenomenal, he's done just about every job at the club.
'The night before the Portchester game he was sat at home folding the programmes for the next day.
'We can't pay anyone a few hundred pounds to do the programme, as that would be another few hundred pounds we'd have to find from somewhere.'
As previously reported in The News, the US squad aren't paid a penny to play - indeed, they splash out £100 to sign on and then attempt to claim it back by finding a sponsor.
'That's why I'm passionate about this job - I want the players to get their rewards,' said Turnbull.
'It was brilliant winning at Portchester, there were great scenes in the dressing room, the Phoenix pub we go back to was rocking afterwards, the players were all singing.
'That's the sort of thing they'll remember when they've finished playing.
'They won't remember winning 3-1 at Romsey on a Tuesday night, but they'll remember winning at Portchester in the Vase.'
Turnbull put an appeal out on social media for more match-day volunteers, but has so far had replies measured in the 'square root of nothing.'
On Tuesday, US host Brockenhurst in the third round of the Wessex League Cup.
They are without Josh Hazell and George Root (both self-isolating), Elliott Turnbull, Frankie Paige and Dan Sibley (all injured) and Owen Haly (not match fit).
But new signing Tyler Moret is available as he didn't play for Baffins in either of their two Wessex League Cup ties this season.