Wessex title-winner has made a big impact at Hampshire Premier League club Fleetlands – on the pitch and in the players' pockets!
Goalkeeper Matt Shortt has made a big impact at Fleetlands already - on and off the pitch.
Monday, 5th October 2020, 2:20 pm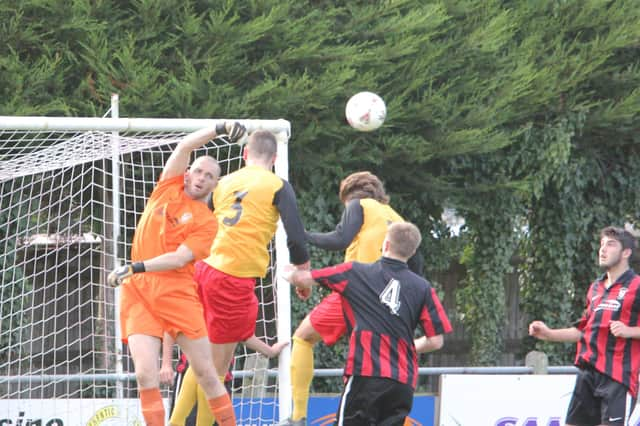 Matt Shortt (orange) has made a big impact since joining Fleetlands in the close season.
On it, the former Wessex League title-winner has conceded only seven goals in his first six Hampshire Premier League games.
And three of those came on his debut against Locks Heath.
Only Bush Hill and Winchester Castle have a better defensive record in the Senior Division following the Coptermen's 2-1 home win over Overton at the weekend.
Off it, Shortt is revelling in his role as 'fines' manager.
'Matt's come in and made a big difference,' said boss Rich Besey.
'He's in charge of all the fines and he's ruthless - it's £5 for being caught on your mobile, £2 for turning up late. It's all good banter.
'I was checking a message on my mobile in the dug-out at the weekend and Shortty shouted over from in goal that I'd be fined!
'We've already got over £450 in the kitty - our end-of-season do is going to be disgusting! There will be some serious headaches after that.'
Bessey recalled Jamie Wrapson and Glyn Cooper to the starting XI for Overton's visit and both of them struck in the first half.
Fleetlands have signed Phil Archbold from US Portsmouth and he goes straight into the squad for Wednesday's trip to leaders Infinity.
'He's a big game player,' said Bessey. 'He's involved with the Navy, he's as fit as a fiddle and his experience will be a huge help for us.
'At the moment we're probably where we deserve to be, though the chairman would probably like us to be higher!
'It's a massive game at Infinity. We're six points behind them with two games in hand.'
Infinity have established a new HPL record of 32 games unbeaten. But during that run, no club has gone closer to beating them than Fleetlands. Last September Bessey's side were leading 2-0 with just minutes to go – but ended up drawing 2-2.