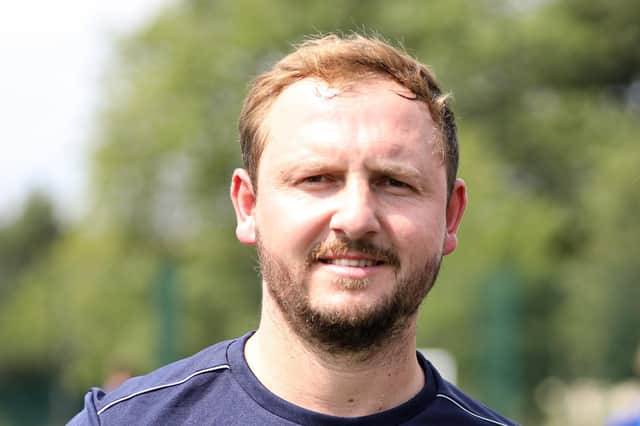 Baffins boss Shaun Wilkinson. Picture: Chris Moorhouse
In a week where AFC Portchester sacked Mick Catlin after eight games of the new Wessex League season, Wilkinson is confident he will be given time to get Rovers challenging for promotion to the Southern League.
'I don't feel under pressure,' he said. 'There's a two-year plan to get us near the top of this league.
'The chairman wants me to build a young side for little money and he knows it will take time.
Tommy Scutt, left, turned down the chance to join AFC Portchester prior to Mick Catlin's sacking. Image: Simon Hill Photography
'This season was all about bedding in.'
Wilkinson has sympathy for Catlin, admitting: 'Portchester are in exactly the same situation as Baffins - they've got a new side and it takes time.
'Eight games is not a long time.
'Their next appointment will probably be the biggest in the club's history.
'The next manager will have a free hit this season as I don't think they'll go up.'
Portchester's budget is among the best in the Wessex Premier, and Catlin was attempting to make more signings prior to his sacking.
He had put in seven days for Baffins goalscoring midfielder Tommy Scutt, who had turned down 'a lot more money' according to Wilkinson to stay at The PMC Stadium.
'In any league throwing money at it isn't the answer,' said Wilkinson
'I remember at Havant Shaun Gale brought in six players from Lewes one season, and we were almost relegated.
'I don't care if a player is earning £300 or £5 a week, you need a good mindset, a good attitude and you have to be adaptable.
'The Wessex League is a better league than I gave it credit for, you have to be on your game every week as anyone can beat anyone.'
Catlin told The News this week that he thought the 'fun' had gone out of local football.
Asked for his views, Wilkinson said: 'You only enjoy football at any level if you're winning.
'I was a professional and football was my job, so I never really got that much enjoyment out of it.
'I'm in football because I want to win. Some people are in football for the tracksuit, but I want to win.
'I measure footballing success in trophies. If I'm at Baffins for four years and not won anything then I've failed.
'That's the pressure I put on myself.'
A first manager's role at step 5 of non-league football has been an eye-opener for the former Brighton pro who also enjoyed a good semi-pro career with Hawks and Weymouth.
'There's a few things I'm still trying to get my head around,' Wilkinson remarked, 'like playing Sunday football or going out on a Friday night.
'But this is the level I'm at, it's the only level I'm good for at the moment.
'Baffins is a good club - it's got a proper football club feel.'
Midfielder James Cowan returns after a three-game suspension for this weekend's home game with AFC Stoneham.
Baffins ended an eight-game winless streak - including seven league and cup losses - with a 3-0 home win over Bournemouth Poppies last weekend.
'We just need to build on that result,' said the boss.