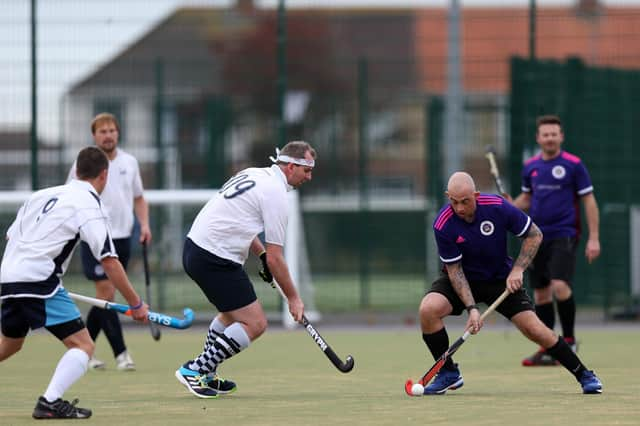 Terry Exton, right, in possession for Portsmouth 2nds during their home defeat against Isle of Wight. Picture: Chris Moorhouse
They travelled to central London and recorded a 3-0 success against a Wanderers 2nds side who have yet to pick up a point and who prop up the table.
On a wet and blustery afternoon, Portsmouth's steadfast defence and midfield controlled the majority of the game.
They took the lead when Avery drew in a couple of defenders at the top of the D and slipped the ball to Adam Payne to score.
Caleb Rowlands, second right, in action for Portsmouth 2nds against Isle of Wight at Furze Lane. Picture: Chris Moorhouse
A well-worked short corner routine saw Avery score his first of the day as Portsmouth doubled their lead before half-time.
The visitors produced some fine intricate play in the midfield with an excellent display from man of the match Jack Boswell.
Wanderers came out stronger in the second half but were unable to penetrate the Portsmouth defence with Freddie Rainbow making a couple of saves.
Top scorer Avery settled the game after a powerful run took him past three defenders before smashing a low shot past the keeper.
Matt Simpson, right, battles for possession during Portsmouth 2nds' home loss to Isle of Wight. Picture: Chris Moorhouse
Up to fourth bottom, Portsmouth will look to build upon the win when they host third-placed Haslemere this weekend.
Portsmouth 2nds are third bottom of Hampshire Division 3 after a 4-1 home loss against the Isle of Wight.
It was their fourth loss in five games, but they had started well.
Action from Portsmouth 2nds' home defeat to Isle of Wight. Picture: Chris Moorhouse
After Andy Wortley rounded the keeper only to miss his shot, Portsmouth took the lead when Owen Barnes flicked a shot over the keeper.
Isle of Wight hit back to lead at the interval, and they added two more after the break.
Portsmouth Women 1sts defeated a Portsmouth University XI 1-0 in a friendly.
The game was split into quarters with the Rangers team borrowing Portsmouth pair Becky Clay and Louisa McKay.
The only goal came in the second quarter when a short corner routine saw Emily Crowcroft smash in a shot from the top of the D.