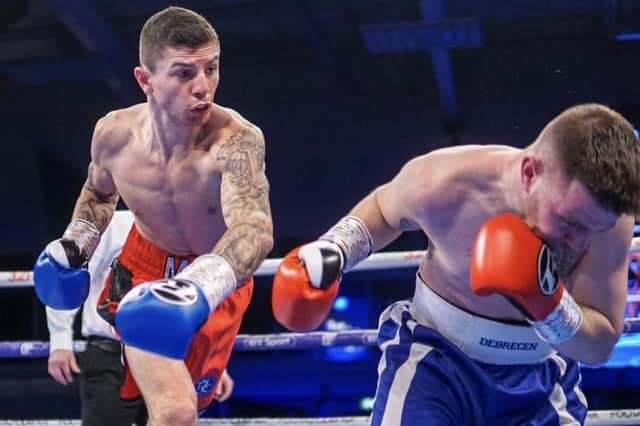 Mark Chamberlain, left, has taken his professional record to 7-0
The Waterlooville lightweight clinched an impressive points victory over much-fancied Shaun Cooper in front of the TV cameras on BT Sports.
The 21-year-old produced a dominant display, going the distance in his first-ever eight-round bout.
Cooper, with more experience and a 10-1 record heading into the fight, was favourite to end Chamberlain's unbeaten run.
But Chamberlain, who now has a 7-0 professional record, was pleased to show he is capable of going eight rounds.
'I've had seven fights now and a few of them have been stopped early, so I haven't been able to show I can do the rounds,' he explained.
'The last time I got out it was on TV, but it was only for like 55 seconds.
'At least I got eight good, hard rounds and showed what I could do throughout those.
'It was another step up in opponent and I got the job done and got the win.
'I did quite well to beat him.
'Obviously on paper he was due to beat me with his record but that never happened.
'I think he thought he was coming to beat me.'
Chamberlain is now eyeing a third fight in the space of five months to mark a superb end to the year on the back of the pandemic.
Promoter Frank Warren put him on the first BT Sports show after lockdown in July, where he knocked out Stu Greener inside a minute.
'I'm not sure (what's next),' Chamberlain added.
'Hopefully I'll get out before Christmas with a bit of luck, another eight-rounder.
'It will go from there really.
'I'm not sure what route they want to take me down.
'I've just had the one eight round fight so I've proven I can go the distance.
'I know I'll get another normal eight round fight but I don't know in terms of opponent who they'll pick for me.'