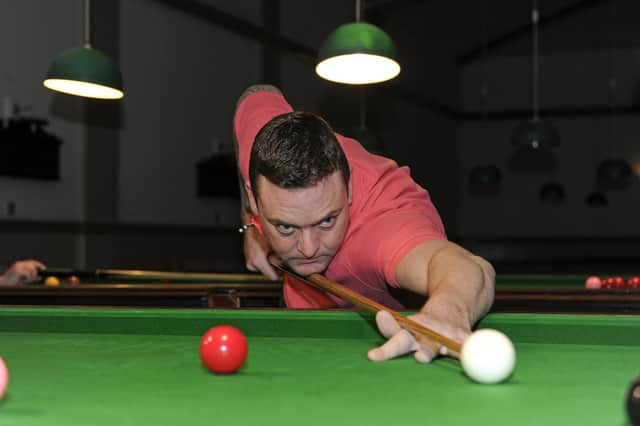 Mike Talmondt compiled breaks of 94 break and 39 in his latest Portsmouth Snooker League match
He followed up a 94 break with another of 39 as his individual match win sealed Copnor's 8-4 success.
Copnor's new signing Jamie Sunderland outshone dad Jon as he won his game while the latter could only draw. Lee Eden also shared his frames but made a 36 break.
The Post Office highlight was Matt Paffett's brilliant 62 break.
Captain Andy Boulton and last man Ian Carter both won their games as Craneswater A came from 3-5 down to beat title rivals Emsworth A.
Shaun Toms had earlier played well in his win for Emsworth.
Bellair's Simon Tulley won the final game of the fixture to give his side a 6-6 draw against Portchester X.
Portchester's Mark Kingswell had started with a win but that was cancelled out by Paul Jagger's brace.
Justin Andrews restored Portchester's lead before Tulley levelled matters again.
Emsworth B kept their Division 2 promotion hopes alive with a 10-2 home caning of North End Bowls Club.
Skipper Matt Beardsworth, John Bateman, John Morrison and Wayne Talley all collected 2-0 victories.
Cowplain Z defeated Waterlooville C 9-3 with Heath Smith, Dave Rees and Frank Baxter winning their matches.
Craneswater Q remain top after beating Waterlooville C 9-3, helped by wins for Chris Bishop, Adam Gillen and Tony Lee.
Craneswater R led 4-0 against Waterlooville Xcels after victories for Chris Davies and Colin Sullivan. It ended up 8-4 with Martin Richardson also grabbing a brace, while Samuel Laxton did likewise in reply.
Waterlooville Bananas remained top of Division 3 with an 8-4 success against Alexandra Bowls Club.
Steve Ball and Wayne Rendle gave Bananas a good start before Paul Taylor's win got Alex off the mark. Dan Lee's 2-0 win sealed Bananas' overall victory.
Cowplain B won a close encounter against Broadoak Social Club 7-5. It appeared a draw was on the cards before last man James Curtis won his match.