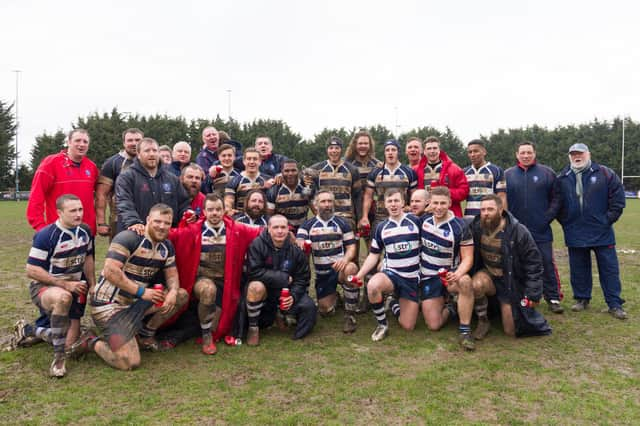 Havant celebrate after beating Bournemouth to win the 2018 Hampshire Cup. It is the only cup they have taken part in in recent years. Picture: Duncan Shepherd
And he insists the Hooks Lake club would also throw their support behind any moves to bring 2nd XVs into the regional league structure - at present Havant's second team can progress no higher than Hampshire Premier.
Knight - along with other club members, including his son Joel, the 1st XV skipper - took part in an online consultation webinar this week regarding the future make-up of league rugby in England.
They were presented with findings from the work undertaken by the Adult Competition Future Structure Group, a direction of travel and different options of what the 2021/22 season could look like.
Havant head coach Will Knight. Picture: Neil Marshall
This virtual process follows January's Adult Male Future Competitions Structure Survey which attracted more than 6,000 responses.
An RFU statement said: 'Feedback on proposals, which include reducing league sizes in a number of instances, introducing league break weekends, and organising leagues to minimise travel for teams, is essential to ensure a transformational structure which meets the game's needs.'
Bill Sweeney, the RFU's Chief Executive, added: 'We can see from participation trends and data that players are playing less fixtures each season and are choosing to play fewer matches for a number of lifestyle reasons.
'Demands on players' time through changing socio-economic factors is not the same as it was 20 years ago.
Havant celebrate after beating Gosport to win the 2015 Hampshire Cup. It is the only cup they have taken part in in recent years. Picture: Ian Hargreaves
'Our current playing offer puts pressure on players and clubs to fulfil fixtures, undermining the sustainability of the game.
'We now have the opportunity to establish a competition structure across the game to serve the interests of all of our players and clubs and underpin our game for the future.'
Havant would have played 26 London 1 South matches in 2019/20 had the campaign been completed.
'I think 26 matches is about right,' said Knight. 'What the make-up of those 26 games are is up for debate.
Havant celebrate after beating Gosport to win the 2015 Hampshire Cup. It is the only cup they have taken part in in recent years. Picture: Ian Hargreaves (150799-1)
'We could have 22 league games, and a cup featuring a group stage where you're guaranteed three games and some knockout rounds after that.
'A cup would be a nice addition, we haven't had that opportunity for many years.'
Cup rugby has a special place in Havant's hearts - back in 1976 they became the first junior club to ever reach the last 16 of the John Player Cup (the blue riband knockout trophy in English rugby) prior to losing to Leeds-based Roundhay.
Three years later, Havant welcomed Rosslyn Park - then one of the top names in the English game - to Hooks Lane for another John Player Cup tie.
But the only cup the club have played in in recent years is the Hampshire Cup - the last three of their 19 tournament wins since 1975 coming in 2015, 2017 and 2018.
'I know some clubs would say don't bother with cups, just go with the league because it's tried and tested - opinion would vary in different parts of the country,' Knight continued.
'I think if your club has reached a Twickenham final before then you're going to be a big advocate of cup rugby.
'As a club, we're open to change.
'There's lots of competing factors, though - I know for some clubs they like having a certain amount of home games that they can factor into their business model, I get that.'
Knight is also happy to see any rule change that would allow 2nd XVs into the regional league.
'We would welcome that. We want to offer the highest level of quality rugby that we can at all levels of the club.
'We're ambitious in what we want the club to achieve, and also ambitious for the players - we want to expose them to the highest level of rugby that the club can sustainably provide
'If our first team had to play, say, Rosslyn Park 2nds in a league game I wouldn't see that as an issue. It would probably provide a high standard of rugby that our boys would enjoy.'
Knight has no real issues with regards to Havant's recent travelling.
'It's been fine,' Knight said. 'London 1 South was fairly compact. We had a couple of long trips to Kent to play Gravesend and Dover, but they had disappeared in the last few years.
'There would be some long trips if we got to National 2 - the likes of Redruth (in Cornwall) and the Midlands.
'But I think players realise that, if they want to play at a high level, they have to do the travelling.
'To me, long coach journeys are part of what rugby is all about. I don't think the travelling has ever been an issue.'
Redruth is a 450-mile round-trip from Havant, which would take the best part of nine hours. Also in National 2 - where teams play 30 league games a season, a 'ridiculously high' number according to Knight - are Leicester Lions, a 320-mile round-trip.
The 2020/21 season - which sees them return to level 5 after winning London 1 South - gives Havant just one long journey, a 440-mile round trip to East Anglia to face North Walsham.
The RFU Council are expected to ratify the proposals in early October, for implementation in the 2021/22 season.
Knight admits his 'biggest challenge' at present is not knowing when Havant's next competitive game is.
The RFU this week published their 'Return to Rugby Roadmap' document showing six stages of exiting lockdown and resuming normal matches.
1 Individual training with one other person;
2 Individual training in small groups;
3 Larger group training with limited face-to-face or close contact;
4 Whole team training with increased face-to-face or close contact;
5 Whole team training in preparation to play matches;
6 Return to matches against other teams.
'It may be necessary to remain in any one stage for a sustained period of time, with or without minor amendments,' the governing body stated. 'It may also be possible to jump a stage.'
Since last Monday, the RFU have been implementing stage 2.
'It is possible that we may remain at stage 2 for a while with potential amendments coming within the stage to reflect any revised government position,' the RFU added.
'This could include, for example, an enlargement of the number of people permitted.
'A move to stage 3 would begin to see larger groups being able to train together, such as forwards or backs or age grade groupings and would likely involve more interactive activity other than simply fitness and conditioning work.
'We anticipate that this stage will still be subject to some social distancing measures and the training activities permitted would likely reflect a need to limit the total amount of close or face-to-face contact between individuals.
'A move to stage 4 is likely to be triggered by a more significant relaxation of social distancing measures and when the risk element of typical rugby training activities that involve close and face-to-face contact and the typical physical contact of rugby training is deemed acceptable.
'Stage 5 allows for preparation for return to play and to matches. A minimum of four weeks will be spent in stage 5 before any progression to stage 6, to allow players to get match fit.'
'It makes sense,' said Knight. 'The biggest challenge for us is not knowing when next season is due to start.
'Without knowing that, you don't know when to start training - you don't want to start too early, it's about trying to maintain momentum.
'It's difficult, everyone's keen, everyone's chomping at the bit to get their teeth into next season.
'But we have to get it right, we have to set a great example to the rest of the club, we need to get it bang on.'
Havant's London & South East Premier season is due to start in September, but Knight is expecting that to be pushed back. The club rugby season usually ends in April, but there is scope - certainly at Havant's level - to play on.
'I don't think it would be an issue to extend the season,' said Knight.
'For those that play county rugby, the season would only have ended last week. They normally play through the whole of May.
'You could forget the county games for one year and play on, even into June. But then the question is how much do you roll over into rest time - will the RFU want the following season (2021/22) to start on its normal date?'