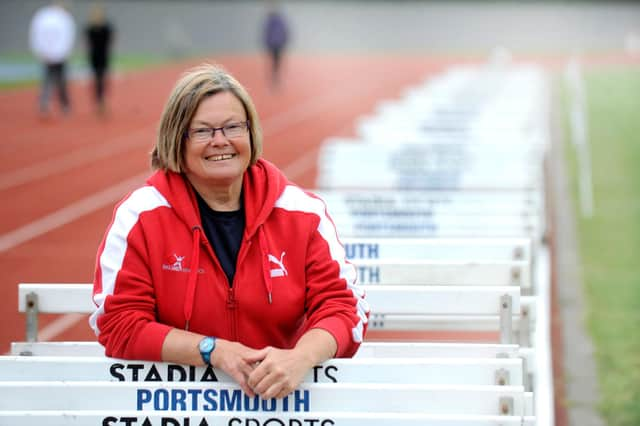 Bronwin Carter, who has been involved with the City of Portsmouth Athletics Club for over half a century. Picture: Ian Hargreaves
And the long-serving former athlete and nationally recognised current coach has no plans on calling it quits anytime soon.
Starting out as a shot putter, Carter collected an England vest and claimed glory on her sole national appearance in France.
A successful move into weightlifting saw her become a multiple world champion.
Serena Vincent with coach Bronwin Carter. Picture: Paul Smith
Now, just as she has been for more than 30 years, Carter plays a crucial role in helping athletes achieve their own dreams.
It's been quite a career in and around the track for the vastly-experienced shot put, javelin and discus coach.
Incredibly, the 69-year old has had numerous athletes under her tutelage go onto reach international level.
Carter worked with shot putter Lee Wiltshire, who competed for Wales at the 1994 Commonwealth Games, while former Great Britain javelin thrower Richard Shuttleworth is another she mentored.
Flashback - Bronwin Carter carries the Olympic flame along Kingston Road in Portsmouth ahead of London 2012. Picture: Ian Hargreaves
England javelin duo Katy Watts and Noel Bradshaw are others the North End resident also counts as former pupils.
When you add to that the international para athlete pair of Kim Minett, David Lovett and a brief stint with hammer thrower Helen Arnold, it really is a gifted bunch Carter has had an influence on.
Currently, under-20 number two shot put star Serena Vincent - ranked number two in the world in the under-20 shot - could be next off the conveyor belt.
Carter's brilliant work through the years saw her scoop the England Athletics coach of the year in 2017.
Linvoy Primus presents the Outstanding Contribution Award to Bronwin Carter at The News' Sports Awards in 2012. Picture: Sarah Standing.
All of which is pretty impressive for someone who originally hadn't planned to go down the coaching route!
'I've been an athlete for City of Portsmouth for 50 years,' Carter told The News.
'They bullied me into doing some coaching in 1988.
'I said that I'd never come down a cold, old windy track after I've packed in throwing and look at me now.
Former GB javelin thrower Richard Shuttleworth. Picture: Sarah Standing
'I'm down here more often then when I was training!
'I've had quite a few (go onto international level).
'I've had four javelin throwers that hit GB ranks.
'Richard Shuttleworth was my most recognised one but then he gave it up as well.
'They all come and go, if you see what I mean.
'I had a few shot putters as well.
Katy Watts throws the javelin during the British Championships in 2013. Pic: John Giles, PA
'Lee Wiltshire was one, who was in the Commonwealth Games in the 90s, we've had some successes.'
Currently on the British Athletics Futures Programme, City of Portsmouth shot put star Vincent began working with Carter soon after taking up the sport in her teenage years.
Along with her father Andrew, the pair form the 20-year-old's coaching team.
Carter's influence on Vincent's strength and conditioning has helped her become one of the brightest prospects in Britain.
Intriguingly, both had their doubts as to whether they were capable of competing on the shot put scene.
Yet they both brushed those concerns aside to prove their potential.
'I got branded as the south coast's shortest shot putter, they told me I was too short to throw,' recalled Carter.
'I had the same mindset (as Serena) saying, 'nobody is going to tell me I'm too short to throw,' so it spurs you on.
'The same with Serena with those saying she's not big enough or she's not that - I hate that.
'It can be done and it will be done.
'It gives her a bit more drive to achieve what she wants to achieve.
'She's getting a lot stronger now. If she gets her feet in the right place then we'll be there!
'She's a really good athlete and she's an athlete. You have to be a sprinter, a weightlifter, a jumper and a thrower - you've got to do all those elements (in shot put).
'You've got to do all those elements and if you can do all that then you're quids in.
'I'm hoping it will inspire other females to take the sport up.'
Vincent is one of around 15 athletes Carter is working with at present.
Despite being faced with arguably the toughest period of her coaching career amid the coronavirus outbreak, she has remained in touch with club members virtually throughout the lockdowns.
Now back taking smaller groups, the award-winning coach – chosen to take the Olympic Torch through part of Portsmouth in the build up to London 2012 - is hoping to watch more of her athletes shine in the future.
'I was born in Portsmouth and I've always been a Portsmouth girl, so it really does mean a lot,' she said.
'Obviously, now the Mountbatten has grown to an international track and I've been there through the whole lot, coaching throwers and getting the best I can out of them.
'I'm back and can take up to six people. I have them mostly on a one-to-one basis.
'There are youngsters that are coming through, so we can still do one on ones.
'During lockdown all I did was spend time on my computer - I hate computers - trying to coach.
'I got the national coaching award which was quite an accolade.
'I'm proud of the achievements and I'm proud of what I've done, and I'm still not finished yet.'