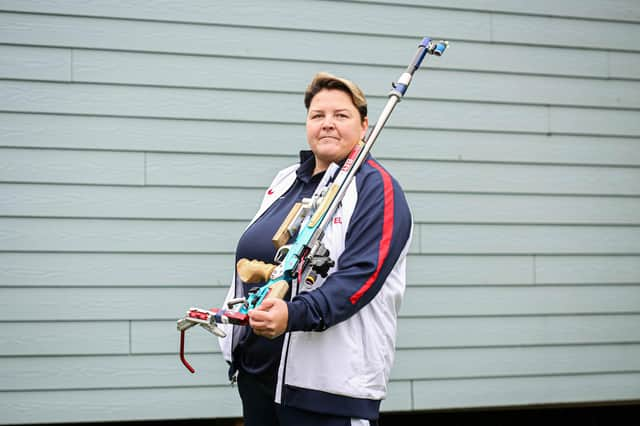 Lorraine Lambert. Picture: Habibur Rahman
The Portsmouth-based shooter - one of thousands of athletes set to head for Japan this summer - has already received a Games 'playbook' produced by the International Olympic Committee.
The document has been produced in a bid to minimise the threat of spreading coronavirus at the global event which has already been postponed once.
A number of points have been outlined in the 'playbook', including 'discouraging singing and chanting' and instead encouraging clapping at the Games. It also states vaccinations are not a necessity for athletes in order to take part.
But Milton resident Lambert, selected as part of the six-strong GB para-shooting squad, insisted she's not bothered whether she can only be applauded should she win a medal.
And she is adamant the Tokyo event would not be taking place if there was a health risk for anyone involved.
Lambert said: 'It does actually state in our 'playbook' to support athletes by clapping and not singing.
'I've got every faith in the IPC, I know British Shooting wouldn't put us in any harm, they've proved that all the way through this Covid situation.
'I don't care, they can do what they like, if I win a medal they can clap as hard as they can and I'll be listening.
'You're winning it for yourself (a medal); yes, it would be great to have crowds like I had in Rio behind me at the finals in Rio where we had thousands of kids - because they'd all been given free tickets - cheering and clapping.
'That was awesome and just talking about that now hairs stand up on the back of my neck.
'It's a feeling that never goes away, but I've been in competition where there's hardly anyone there.
'There's been a lot of investment in it and Paralympics GB have done so much, along with the Paralympics Committee themselves, to make sure it's secure and it's safe.
'They wouldn't put it on if it wasn't so I've got every faith that it's going to be a safe Games to go to as well.'
The shooting squad were the first athletes confirmed by both GB Olympic and Paralympic associations to be heading to Tokyo.
Lambert feels it's a huge benefit to all those selected to give them an extended preparation period, particularly during the most testing of times because of the pandemic.
She added: 'That's why it was so important for us (to be the first selected) and it shows the faith that our leaders have got in us and the BPA have got in us to say, 'right, you're the six we want, there's your ticket for the plane' - it's like the golden ticket for the plane.
'It was really, really nice to be the first. We can now start putting things into play that we wouldn't have time for.
'Going into Rio (for the 2016 Paralympics) we didn't get selected until the May so we only had a couple of months.
'We can put so much more into place now and that's what we're doing.'
The Olympics are due to take place in Toyko between July 23 and August 8 with the Paralympics following on August 24 to September 5.