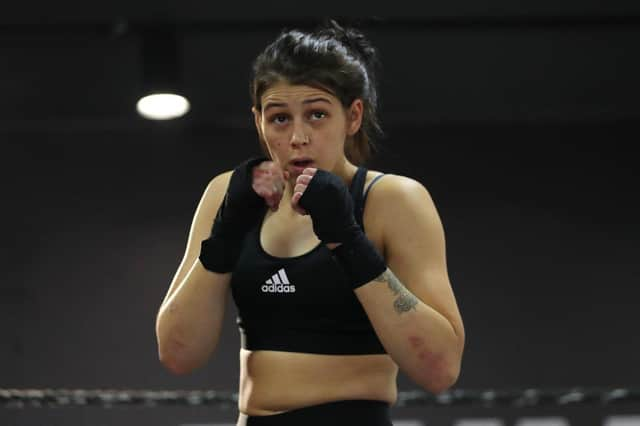 Elley Booth
The 28-year-old is aiming high ahead of moving up after making a mark in the amateur ranks.
Booth, who is based between Chichester and Portsmouth, has the belief that she can beat all put in front of her as she prepares to make the step up.
And not being overawed when sparring Rachel Ball before her world title bout earlier this year has given the south coast boxer added confidence.
'I sparred Rachel Ball before her recent world-title fight and I didn't struggle with her,' said Booth.
'Fitness-wise I was good and I wasn't far behind her.
'I believe I can beat all the girls out there and be a world champion.'
Booth has already scored a victory over an icon of women's boxing.
In 2013, she won a sportswoman of the year award ahead of Nicola Adams, who had won gold at the London Olympics the previous year.
'We didn't even bother going to the awards ceremony,' laughed Booth.
'We thought there was no point because there was no way I was going to win, then I got a phone call saying I had won!'
The award came during a 22-bout amateur career that peaked with winning the junior ABA title and Haringey Box Cup gold.
Booth has been going to the gym since she was seven years old – and was thrown out of her first boxing club for bashing up the boys.
She said: 'I just threw myself into it from the first day, I went to the gym when I was around seven years old.
'My brother was training at the gym and because mum was working nights, dad had to take me and my sister along with him.
'I watched my brother training and I copied him. I learned really quickly and started sparring the boys – until the coaches stopped me.
'I was only nine or 10 and I was doing very well against boys who were older than me and it didn't go down very well.
'I was only a little girl and the coaches thought they had better do something or the boys would stop coming back to the gym.
'They banned me from sparring and I went to another gym and as soon as I was old enough I started competing.'