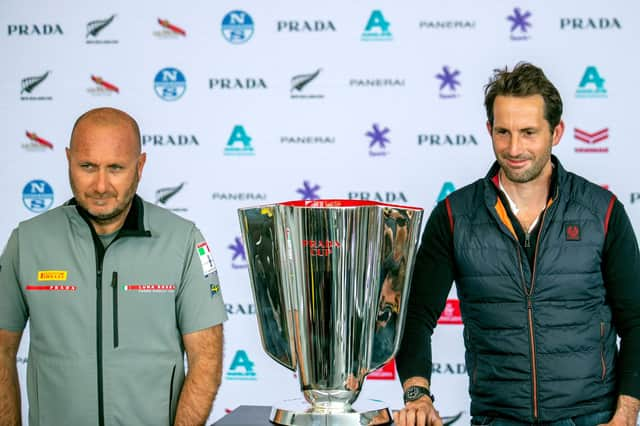 Team Ineos skipper Sir Ben Ainslie, right, with Luna Rossa team director Max Sirena with the Prada Cup at a press conference this week. Photo by Gilles Martin-Raget / AFP via Getty Images.
Ainslie's Portsmouth-based Team Ineos take on Italians Luna Rossa in a best of seven Prada Cup final series starting this weekend off the shores of Auckland.
The winners progress to next month's America's Cup final against defending champions Team New Zealand.
GB have never won the Cup since the first competition was held off the Isle of Wight in 1851 - 170 years ago.
Chris Froome wins the Tour de France in 2015 - one of many cycling successes overseen by Sir Dave Brailsford. Picture: KENZO TRIBOUILLARD/AFP via Getty Images.
The last time a British boat actually took part in the final was in 1964.
Victory in the America's Cup would continue Ineos' amazing record of sponsoring sports champions.
In May 2019 they took over from Sky as the main sponsors of Sir Dave Brailsford's cycling team.
And in December last year, the chemicals company owned by billionaire Sir Jim Ratcliffe were confirmed as one third owners of the Mercedes Formula 1 race team along with Toto Wolff and Daimler.
Mercedes, now a third owned by Ineos, have won the last seven F1 drivers and constructors titles - and Lewis Hamilton has won six of the drivers crowns. Photo by Clive Mason/Getty Images.
Brailsford's cyclists - Bradley Wiggins, Chris Froome and Geraint Thomas - won six Tour de France crowns between 2012-2018 - while Mercedes have claimed seven successive F1 drivers and constructors titles since 2014.
No other team has ever won that many successive titles in the sport's history.
Lewis Hamilton has won six of those drivers titles and, in the one year he didn't win, he was just five points behind Mercedes colleague Nico Rosberg.
Brailsford's sensational success in cycling – starting with two Team GB golds at the 2004 Olympics, at the time the country's best performance in a Games said 1908 - has been underpinned by his relentless pursuit of what he calls 'marginal gains'.
Speaking in 2012, he explained the philosophy. 'The whole principle came from the idea that if you broke down everything you could think of, that goes into riding a bike, and then improved it by 1 per cent, you will get a significant increase when you put them all together.'
It is a principle Ainslie is following in his bid to rewrite sporting history.
Winning the Prada Cup round-robin series allowed his team extra time to work on 'marginal gains' modifications on their boat, called Britannia, while Luna Rossa and Team America battled it out for the right to take on Team Ineos in the final
'Taking the direct route into the Prada Cup final meant we have had an extra week's preparation without racing compared to the Italians,' explained Ainslie.
'That has been important as throughout this whole campaign we have been playing catch-up to a certain extent with Luna Rossa and Team New Zealand in terms of their knowledge of the concept of the boat.
'Now we had, for the first time, the opportunity to gain a bit of time back.
'That extra week has enabled us to make some changes that frankly we would not have been able to make otherwise.
'In the past two and a half weeks since we raced in the Round Robin series it has been all about making the marginal gains to continue improving our performance.
'We are now in the stage of the cycle where it is all about fine-tuning performance, finding half of a per cent here and there.
'If you make five or six of those small improvements you are suddenly making a 2-3 per cent performance gain, which at this level is huge.
'That marginal gains philosophy is visible throughout the entire Ineos sports group, from Sir Dave Brailsford's Ineos Grenadiers through to the Mercedes F1 team, who have been continuing to support us throughout this period.
'There has been a phenomenal amount of sporting success within that group and to be able to share in that and learn from that is hugely powerful.
'To a certain extent we now feel the responsibility to keep up with their successes and that is a great motivator for us.'
Ainslie and co suffered a dismal start to their America's Cup campaign in the pre-Christmas World Series when, over three days of racing, they failed to win a race and retired from one with technical problems. That left Ainslie to concede: 'We have serious problems.'
Speaking this week, he recalled: 'We had a tough start to this competition and the team had to dig deep to turns things around.
'The momentum that comes with that is vital. We have made sure to keep that intensity going over the past three weeks.
'We have worked around the clock to make the developments we needed to find more boat speed, particularly in the lighter airs where we know the Italians are strongest.'