Portsmouth singer-songwriter Somewhere in The Wildwood on Beautiful Songs and the healing power of music
'In a sense...' he pauses to choose his words carefully, 'imperfection has saved my life.'
Thursday, 11th February 2021, 5:45 pm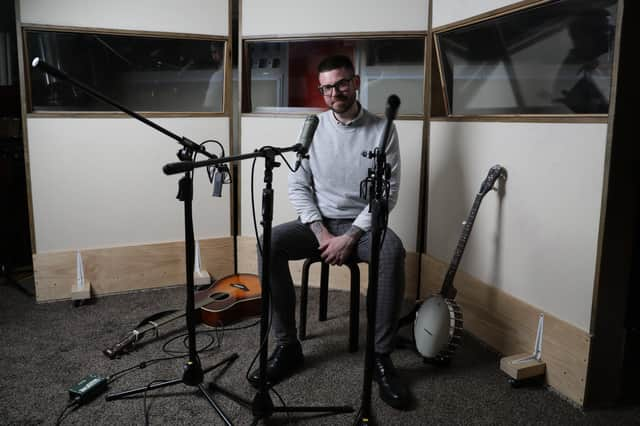 Somewhere in The Wildwood, aka Matthew Harrison, at Mayfield Studio, on February 26, 2020, Photo by Tony Palmer
It's not something Matthew Harrison says to be melodramatic, he is simply illustrating how his new EP, Beautiful Songs, came to be.
Matthew, who records as Somewhere in The Wildwood is telling how music has been key to his struggle with depression.
When the Portsmouth-based singer-songwriter started the Wildwood project in 2019, depression had him in a vice-like grip.
'I have dealt with depression for a long time,' he recalls, 'but I woke up every day, depressed. Before I even woke up and opened my eyes and saw what time it was, if it was sunny or raining, anything, instantly I felt depressed.
'I got to this point where I was going to kill myself, basically.
'I was so depressed I stood out in the rain for two hours, just thinking: "I don't feel anything more other than this, and I cannot do this any more".
'So I thought, I need to do something drastically positive, or I'm going to do something drastically negative.'
Somewhere in The Wildwood. Picture by Tony Palmer
Fortunately he opted for the former, packed up his car and drove to the Netherlands to see a gig by his favourite act The Tallest Man on Earth, also known as Kristian Matsson.
'I was at his show, right at the front and it was a real intimate gig.
He's an amazing artist, he's always inspired me, but he's not perfect – he's not a robot, he plays duff notes and forgets things.
'It got to this point during one of my favourite songs, Revelation Blues and he forgot the lyrics. He cycled back round the chords and tried again, but he forgot the lyrics again, and he cycled back around again but he just could not get it.
Somewhere in The Wildwood performing at Lockdown Mastered in Southsea, August 2020. Picture by Tony Palmer
'I shouted out the words to him, and he went: "Hold on, hold on", and he crouched down next to me, so could whisper the lyrics in his ear. But then he grabbed the mic, put it between us and we both sang the song together.
'It was a life changing moment. People were grabbing me, they were screaming and applauding. Kristian said: "Thank Matt everybody for saving the show!"
'And I had this moment where I thought if I had done something stupid, if I had killed myself, I would not be here to experience the beauty of this moment, and that's an incredible realisation.
'Life is hard, but there is beauty in both amazing moments like that and in sadness too – there's beauty to be found in both sides of that spectrum, and I think that's what the title of the record Beautiful Songs, and the songs are really about.'
Somewhere in The Wildwood at Lockdown Mastered in Southsea, August 2020. Picture by Tony Palmer
Matthew is also frontman of the country band Hometown Show, who put their latest album, The Old Golden River, at the end of 2019.
But when the pandemic brought the world as we knew it to a standstill, Matthew turned to solo live streaming and writing, home recording and sharing a few bits and pieces under his Wildwood moniker.
The new EP came from those sessions.
'It was born out of those demos I did at home by myself, recorded on this little Shure MV88 microphone, which just plugs into my iPhone. I bought it and I thought I'll do some stuff at home because it might be a while before I can get out into the studio and record it properly, so I can do some creative bits and pieces myself.'
But as the various lockdowns dragged on, Matthew says: 'Instead of sitting on these ideas, or thinking, I'll get to them one day, I just thought, why don't I do it now? Put it out there and be as raw and as open and honest as possible?
'That's what music is about, after all.'
Ultimately the past year has reinforced to Matthew why he creates music.
'We always get caught up in, it should be perfect, and we should attack it like this, and do a social media campaign, we've got to get it ready for blogs and review sites, and do this post for Instagram, and make sure it's here on Facebook as well. It's so labour intensive.
'I feel like I should just put it out there, and the people who listen to it, and it affects them, that's the main thing.
'If it just affects one person, then the music has done its job, really.
'Just before Christmas, I saw a broadast on the news, saying music sales are up this year and look how great it is. But it was talking about people like Lewis Capaldi – which is great for him, with this huge team behind him and records and merch, but for us, it costs so much money to make these records, and the likelihood is, you're probably not going to see that money in return.
'The Hometown Show album, that cost us so much and we've had thousands and thousands of streams, but we've nowhere near made the money back.
'But we want to put the music out there because we have faith in it and we love it and there are people out there who love it and want to listen to it too.
'We just kind of accept that we're going to take a hit on it, but at least we're doing a thing that we love.'
On the EP, Matthew invited some friends to contribute, including Jonny Elstone of Me and The Moon on guitar, Matt Elstone on cello, Oli Parker on trumpet, Megan Linford on vocals and organ, Mel Maloney on violin and Hannah Kane, who plays as Gecko and The Bee on vocals.
Their contributions were all recorded at their respective homes and sent digitally to Matthew.
'Most of it has been recorded on an iPhone, either with an external mic, or just the mic that's on it.
'Hannah Kane, we only met by playing the same virtual music festival, and we had a mutual appreciation of each other's music.
'I've never met her in real life, haven't even spoken to her on the phone, but have spoken on social media.
'I sent her a song, she recorded some vocals and sent it back. Now we're playing music together and that's so cool.'
'It's amazing the things you can do, and that's kind of why I wanted to release the record and be like: this is a moment in time, this is a feeling. This record does have scratches, and not-perfect notes, and has creaky chairs and breaths and all that, but that's okay, because we need to remember art and music should be accessible to everyone.
'You can do it yourself and make it yourself, and hopefully the record epitomises that idea.
We get caught up in this idea of perfection, specially in this age of social media, but life isn't perfect and art is not perfect, love is not perfect, and that is okay.
'There's beauty in those imperfections. We shouldn't be afraid or run from them. We grow by embracing them.
'The title of the EP, Beautiful Songs, is ironic in a sense.
'While the songs are certainly beautiful to me, their beauty has been heightened by the wonderful musicians who play on the record, the beauty is that they're all kind of born out of heartache, but that heartache has gone on to become art.
'It's so different from Hometown Show, because Hometown Show a lot of the time is upbeat and it's drinking songs and country songs. This is me at the forefront of it all and it's quite introspective and raw, and that singer-songwriter aspect.'
During last summer's semi-respite from lockdown, Matthew played an open-air gig as part of the Lockdown Mastered series of shows, supporting country artist Katy Hurt, opposite Clarence Pier in Southsea.
'It was so hard playing the show, I loved it, but I forgot how to play in front of a real live audience. I was so used to seeing emojis pop up on the screen...
'It was like stepping on stage for the first time all over again, but you soon get into the rhythm of things again and it was beautiful seeing people singing along and enjoying music – and out in the open too, I was so lucky.
'It meant the world, I'm so grateful and thankful to Geoff (Priestley of The Wedgewood Rooms) and the team.
'I really miss being out there – there's nothing like playing music in real life to an actual audience, then receiving that and being affected by it, and seeing people enjoy it. Seeing them take in what you're singing.
'And I miss playing with my band members as well!'
A pound from every sale of the EP will go to Tonic, the Portsmouth-based music and mental health charity.
Matthew has had a relationship with them since his debut Wildwood gig at The Wave Maiden in Southsea when he invited them to have a stall at the show.
'Like a lot of people I'm scared to say: "I suffer with depression, I suffer with anxiety". Even though we are speaking more openly about mental health, sadly it's sometimes still as seen as taboo to talk about.
'But actually, if I have this rash, open conversation with people and say straight up: "This is what it's like", people have no choice but to confront it.
'That's why I want Tonic to be involved. They've been there from the start, so I champion them whenever I can.'