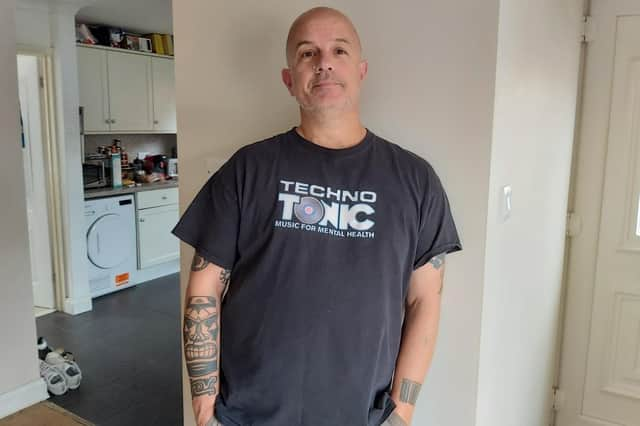 Chris Collins, who is one half of Total State Machine with Simon Heartfield, and came up with the idea for the charity compilation, Techno Tonic
As a long-term supporter of the charity, Chris Collins came up with the idea for the project earlier in 2020 when he was on the Portsmouth Techno Facebook group.
The group was set up by Chris' friend Aaron Udy, co-founder of Taro Records, to help foster the local scene, whether you be a musician, promoter or fan.
'When I joined that,' said Chris, 'it was like, I know this person, I know that person, I haven't seen them for years!
'That's when I thought we should put together a compilation of all the people from Pompey making music – there's loads of people out there making music, and then we decided that everything we make from it will go to Tonic.
'We thought if can get 10 people on there and they know 10 people then that's 100 sales already, and that's a few hundred quid for the charity.
'Udy's so into it with his label Taro, that he said to me, you get the music sorted and I'll do everything else.'
The Portsmouth-based charity aims to raise mental health awareness, challenge stigma and promote mental wellbeing through music and the arts.
Getting people involved was going well until lockdown hit.
'We were hoping to have it all ready for the start of April, and then Covid poked its head up, which caused all kinds of problems.'
The 11-track compilation, including one from Chris' Total State Machine project with Simon Heartfield, is released today and available to download from the Bandcamp site,
'It's come together really well in the end.
'There's so many people out there doing things like this. But it runs the full spectrum, I do pretty hard techno with Simon, Udy's Syrette project is also quite hard, but we've got things on there which are like an Ibiza Sunday, and there's something which is quite electro.
'There's something for everyone.
'As the tracks were coming into me, I was thinking: "Wow, I had no idea you were making music like this!" Everything was amazing, there was nothing I had to send back and ask people to change it.'
The original plan had been to tie the album's release with a launch party, but that can no longer happen for obvious reasons.
'We thought, yeah, when the album comes out, we'll do a night – more than half the people on there can DJ, we'll get a couple of live acts in, and loads of people were backing us – it was great. But then Covid came along, so we've put it off until next year some time.'
And if this album goes well, Chris is already thinking about a second volume for next year as well.
The album is available for £5 or more, and if you download it today, Friday, September 4, Bandcamp is waiving all of its fees, so the money goes direct to the project.