Gay, tomboys, patriots, or just looking for adventure? A new book looks at the women who cross-dressed to go to sea...
Two, three hundred or more years ago, life at sea was hard.
Saturday, 13th March 2021, 6:00 am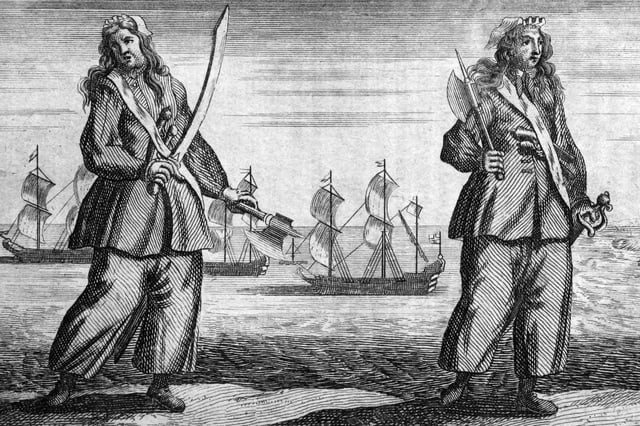 Pirates Mary Read and Ann Bonny, around 1720. The pair feature in Cross-Dressed to Kill by Vivien Morgan
Living conditions were harsh, life was cheap and pay was poor.
The British Royal Navy may have 'ruled the waves' but it's hardly surprising that it had to use to press gangs to bolster its ranks.
Women were not allowed to join ships' crews – whether in the merchant fleet or the navy.
Vivien Morgan, author of Cross-dressed To Kill - Women Who Went to War Disguised as Men
But that didn't stop some women from joining – albeit in disguise as men.
Journalist and documentary producer Vivien Morgan has written a book, Cross-dressed to Kill – women who went to war disguised as men, an in-depth look at the phenomenon, telling the stories of numerous women from England, Ireland, France, Prussia, Russia, Spain and Israel, from the 17th to the 20th centuries.
Among the meticulously researched stories are those of several women from Portsmouth.
The book has been something of a long-standing project for Vivien, inspired by her own experiences of travelling and reporting undercover during the 1980s in the closed communist countries.
Hannah Snell, a woman who passed as a male soldier and sailor. Stipple engraving by Maddocks, after R Phelps
A former BBC and ITV, TV news journalist, she picked up a camera to become a TV video-journalist pioneer.
Her fascination with the historic women who cross-dressed came from her own experience of what it meant to hide your identity to get your story.
Fascination turned into research and ended up with this book of their stories.
Vivien, who now lives in Bosham, says: 'I found a Victorian book years ago in a Worcestershire bookshop that featured five women soldiers and was fascinated.
Mary Anne Talbot, who passed as a male soldier and sailor. Engraving by G. Scott, 1804.
'I was encouraged by friends including the writer Jilly Cooper to do a book as no-one had heard about women who masqueraded as men.
'So I did more research and found out that there were hundreds of known women globally who did this.
'Why and how is what I wanted to know. Were they gay, tomboys, patriots or just like Louisa May Alcott desperate to "do something" as they lived through decades of war?
'I did my research before the internet existed in the British Library and the London Library and in Washington at the national libraries too, finding original stories the women told to publishers and printers as well as details in the army archives and the newspapers of the time.'
For the French stories, Vivien translated herself, for the Prussian women, she needed to call on a translator.
'Then the book lay discarded for many years as I pursued a busy career in BBC TV news, travelling a lot.
'Ironically, lockdown created the time and space for me to pick up the book again and finish it.
'I've always enjoyed writing and have throughout my TV career also published pieces in the national newspapers about my news reports usually on human rights – on forced sterilisation of women in Tibet, orphanages and babies scandal in Romania; the use of "slave" labour in Myanmar etc.
'I'm hoping this book will be of interest not only to women but to anyone curious about hidden faces in history.
'I'm behind calls to rewrite what's been called the "stale, white male versions of history" that is taught in our schools and universities.
'So I see this book as a way of getting the names and stories of these amazing and iconic women into the history books .
'They are inspiring as early feminists. They did not accept their sex was a barrier to them fighting for their country, having adventures and escaping from domesticity.
'But in order to do that they had to dress and act as men, to be allowed into a man's world.'
Four of the women soldiers whose stories are told in the book came from Portsmouth in the 18th century.
They saw action in India and the Caribbean, fighting in the trade wars between the English and French. At stake was the lucrative market in cotton, silk, indigo dye, salt, spices, saltpetre, tea, and opium.
Hannah Snell was one. She had no problem signing on as a volunteer for Colonel Fraser's regiment that was part of Admiral Boscawen's fleet.
The fleet was being fitted out for a tour of duty in the East Indies. Men were loath to go on these long overseas trips because conditions aboard ship were bad, food was poor, no return dates could ever be foreseen and the likelihood of getting fevers and even dying was high.
Hannah was on board the Swallow, a sloop-of-war under Captain Rowzier, which set sail with other battleships, men-of-war or frigates and a convoy of 1,400 regular troops. The expedition's objective was to provide naval protection for the English East India Company ships.
After five years she returned to Portsmouth.
She admitted her true sex to her fellow sailors and that the sailor they'd known as James Gray had been a disguise. Hannah's published story, The Female Marine, was a best-seller.
One of the more notorious cases was that of Mary Read, who also enlisted as a sailor in disguise and arrived in the West Indies where she subsequently became a pirate.
She became famous after she was arrested along with another woman pirate, Ann Bonny.
Fifteen-year-old Mary Anne Talbot was forced to board a ship bound for Haiti with her abductor and the man who raped her. She continued as a sailor, after his death on the battlefield and at one point her ship was captured by a French boat,
Release came from the 100-gun English Royal Navy ship, Queen Charlotte, and Mary Anne was taken on board where she told her story, but not her sex, to Admiral Lord Howe.
He believed her and offered to transfer her as a powder-monkey to the new and powerful 74-gun HMS Brunswick. Captain Harvey promoted her to be 'his principal cabin-boy.'
More women in disguise served in the 19th century on board English naval ships.
Among them was the only known black woman in disguise, using the alias William Brown, is recorded in naval logs as being dismissed for being a woman.
Later, Queen Victoria refused to award them any medals when their stories were known.
WIN A COPY OF CROSS-DRESSED TO KILL
We have copies of Vivien Morgan's book, Cross-dressed to Kill – Women Who Went to War Disguised as Men, for two lucky readers to win.
To be in with a chance of winning this fascinating book, answer the following question:
:: Which famous woman cross-dresser was born in Worcester, set sail from Portsmouth, and served on board the Swallow?
Send your answer, with your name, address and contact number by email to us at [email protected].
The winner will be drawn at random from the correct entries received by midnight on Friday, March 19.
It is also available to buy online from Amazon in paperback and Kindle versions at amzn.to/30wXtDH.