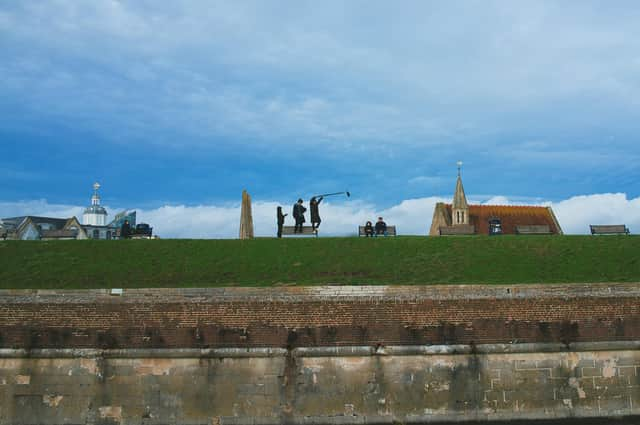 Making The Moon Lamp, directed by Alsie Hua, in Old Portsmouth. The film is an entrant into the Making Waves International Film Festival 2021.
The Portsmouth-based Making Waves International Film Festival is back this April, albeit in a scaled down edition.
This year's annual Making Waves Short Film Awards will be a virtual event with screenings on Friday and Saturday April 16-17 with the winners announced on the Saturday.
Now in its ninth year, MWIFF is Portsmouth's annual film festival and short film competition celebrating innovative and bold filmmaking
Shortlisted films for the Best Local Film (Solent Region), Best National Film, and Best International Film will all be screened.
The selection has been made by a panel of filmmaking judges that includes Ali Rasoul, who is experienced in working with top brands Pretty Little Things, Adidas and Nike; Kirsten-Ria a content creator and presenter on Whatculture; University of Portsmouth's senior teaching fellow Neil Hunt specialising in short film, and Rebecca Bellinger, a lecturer in film production.
One of the entrants in the national short film competition is The Moon Lamp, written and directed by Alsie Hua. She came to the University of Portsmouth as part of an exchange programme with her home institute, The Beijing Film Academy.
The Moon Lamp, MWIFF 21 Local Film Shortlist, Making Waves International Film Festival, 2021
The poignant, 10 minute film, tells the story of a young lad who must face up to the truth.
The 21-year-old says: 'We have a course in fiction film, and we need to complete a short film.
'We had three Chinese students, also from Beijing Film Academy, so we naturally became a team and we talked about how to shoot this short film and I got the idea from an experience from my childhood.
'They thought it was a good idea so we worked on it.'
Crew and cast The Moon Lamp, Making Waves International Film Festival, 2021
She found seven-year-old Brian, the character of the son, through a site for professional actors, and the film was shot around Portsmouth last February.
'We'd just finished shooting before lockdown, we were very lucky. We had no idea what was coming. Then it was about a month in post-production, with the editing and sound design.'
The exterior scenes are recognisable to anyone familiar with Portsmouth – they used Castle Road in Southsea and a bench on the waterfront in Old Portsmouth And they also used the Castle Road shop Revive Interiors for a key scene.
'We found a store and I asked: Can I rent this place for one day so I can shoot some film?" And she was very kind – she said you don't have to give me the money.'
To My Younger Self - National Short List, Making Waves International Film Festival, 2021
Ever the perfectionist, Alsie says of the finished film: 'I think it's okay – it could be better, to be honest, but I'm very happy with it. It's my first work shooting in the UK.'
As with so many other events, MWIFF has been hit by the pandemic. Last year's event was bumped to this January and then April, in the hope restrictions would have lifted by now.
Roy Hanney, Making Waves' festival director says: 'We had a whole programme – we had feature film screenings, workshops, BFI talent networks – but around about October it became clear this was just not going to happen and we either had to move everything online, or shift it.
'Everyone involved – which is quite a lot of young people, students at either Portsmouth or Solent, or graduates from film courses around here – they all said we want to have a real live festival.
'So we shifted it to April with great hope, and it became apparent it wasn't going to happen. No6 Cinema's not going to be open, so we can't have our feature film screenings, and the venues we would have worked with like The Wedgewood Rooms, aren't open.
'We thought could we do our network events online, and to be honest, there have been lots of networking events which have been very good online, but we wanted to do it in a real space.
Malakout - International Shortlist, Making Waves International Film Festival, 2021
'But during a difficult year for filmmakers, we have been delighted by the quality and range of films submitted to the Making Waves Short Film Competition.
'Unable to run screenings in a venue, we are instead inviting all of our filmmakers from around the globe, across the UK and around the Solent to join us for the awards ceremony online.
'This evening promises to be a great opportunity for our audiences and filmmakers to get involved and toast the winners of the 2021 awards.'
The MWIFF team, who are all volunteers, still hope to hold further events later in the year when restrictions are lifted.
Among them will be a screening of Real, the directorial debut of actor Aki Omoshaybi, who grew up in Portsmouth and shot the film here.
'It's about local people, local experiences,' says Roy. 'It feels like you're watching a film that would normally be shot in London, but it was all here in Portsmouth.
'It was released a year ago and it's never been in the cinemas.
'We've got Aki coming down to a do a panel and a workshop with some kids – we've got lots of things like that planned, but we're going to do them when we can.'
And the team behind MWIFF have got big ambitions for the future, working with partners including Portmsouth Creates and No6 Cinema locally, as well as BFI Network and Euroscript on the bigger stage.
'I'm hoping we can make the 10th anniversary really happen!' says Roy.
'You look at the impact a film festival can have on a city – it starts from a small seed and you grow it to something that can have quite a big economic impact, a significant cultural impact, but also it has an impact on the growth of the creative industries.
'Portsmouth is currently being celebrated as a centre for entrepreneurial development and the creative industries are really growing in this region.
'The Solent region has more creative industries than Brighton and Bristol put together – but we don't celebrate it.
'There's a real value for businesses, business development agencies to look at this and say: "Actually..."
'In the long run, it's something that can put Portsmouth on the creative map.'
:: The International Short Film Screening will take place on Friday, April 16 at 8pm here.
Film highlights include uncanny animated tales of loss and desire, speculative sci-fi to rival Black Mirror, graveside comedy, planet-hopping cowboys and a garden shed in space!
:: The National & Local Short Film Screening will run on Saturday, April 17, at 7pm, here.
Its highlights include an imaginative film shot during lockdown of a break-up between two lovers, a boy who realises his mistake too late and a film about two strangers who share magical abilities.
:: The 2020 Making Waves Short Film Awards will take place on April 17, from 8pm.
All events are free. Screenings will be hosted live on YouTube.
The Short Film Awards will be hosted on Zoom.
A message from the Editor, Mark Waldron
The News is more reliant than ever on you taking out a digital subscription to support our journalism.
You can subscribe here for unlimited access to Portsmouth news online - as well as our new Puzzles section.
Talent, International shortlist, Making Waves International Film Festival, 2021
How Can I Forget - National Shortlist, Making Waves International Film Festival, 2021
Ballroom dancers at the Savoy, Southsea, in 1965.