University of Portsmouth students take a high-kicking trip with Orpheus into The Underworld
Ever wondered what the gods of Ancient Greece got up to on Mount Olympus?
Saturday, 22nd February 2020, 6:00 am
Updated
Saturday, 22nd February 2020, 6:00 am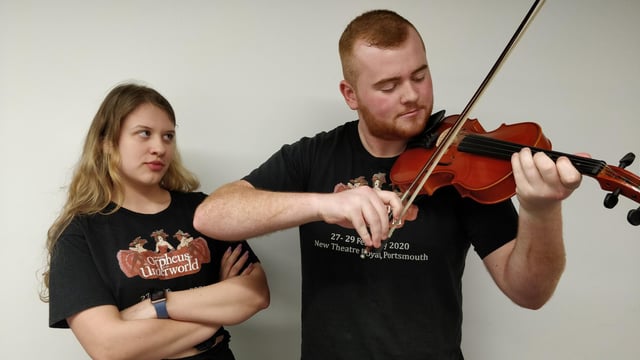 Megan Dutton, left, is Eurydice, with Jake Warner as Orpheus. Picture by Lucy Cullum
The University of Portsmouth's Dramatic and Musical Society will show us in its production of Jacques Offenbach's satirical comedy Orpheus in the Underworld.
It seems the answer though, was sleep, eat ambrosia and drink nectar. That is until the mortal, Orpheus, showed up with his violin to confront the gods to give his reluctant wife, Eurydice, back to him.
In Offenbach's comedic twist on the classic myth, Orpheus and Eurydice are not happy together. They're both having affairs and so when Eurydice gets kidnapped by Pluto, Orpheus is very pleased. Unfortunately, public opinion insists that he run after his wife and rescue her. Thus begins his adventure to The Underworld to retrieve her, not that Eurydice particularly wants him to. Meanwhile, the gods on Mount Olympus are bored doing the same thing every day, so when Orpheus arrives, they all insist on going to The Underworld as well for a taste of excitement, drama – and to party.
Once in the Underworld, a party is thrown for all of the gods where they eat, drink, and make merry as they rejoice in what has become the most well-known incarnation of the infamous can-can dance.
The reluctant couple are played by Megan Dutton and Jake Warner, both second-year musical theatre students at the university.
Megan, originally from Manchester, has played lead roles before as the geeky Patrice in the musical 13 and Jan in Grease. She says: 'Eurydice is outgoing, loud and provocative, so a very different character to the ones I've played before.'
Megan admitted to being more like Eurydice, minus her provocative side. 'I watched other musicals such as Chicago and Cabaret to prepare for this role.'
Jake from Ramsgate, Kent, is also an experienced hand – he was Jesus in Jesus Christ Superstar and Jean Valjean in a Les Miserables' showcase.
Directed by third-year musical theatre student, Molly Brickley-Clark, this operetta exposes the soap opera-like world of the ancient gods, headed by Jupiter, their king and god of thunder, played by Peter Ashdown, a first-year musical theatre student.
After directing a production of Made in Dagenham, Molly found herself wanting to go more down the comedy route. This is what drew her to Orpheus as she wanted to highlight just how funny it is.
'The challenge has been the fact that the musical is not one that's familiar to me or the cast, so while we have the flexibility to set the story as originally as possible, we have done a lot of research into it.
'I looked at what had been done before and have tried to find something different and new for the show, and push new boundaries.'
Molly is assisted in directing by Ferelith Kingston, who is from Luxembourg and is studying for a musical theatre degree.
Molly is graduating this year and will go on to do a masters in directing, while Ferelith is heading to Edinburgh Fringe this summer with a musical she has written and directed.
With a cast of more than 50 performers, and the orchestra in the pit, the students are ready to tackle the task set out by Offenbach's ambitious score.
ORPHEUS IN THE UNDERWORLD
New Theatre Royal, Portsmouth