Business Talks: It's education but not as we know it!
The latest news and events from The University of Portsmouth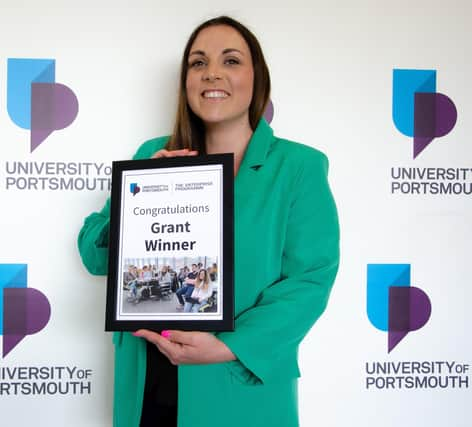 In 2022, Aimee Dobson took part in our Enterprise Programme and won the competition for Fastest Growth Enterprise Idea with her business Brand Conscience - a company that helps companies make more sustainable choices.
The Enterprise Programme is designed to provide our students and alumni with the skills, confidence and competencies to help them become individuals that can make big things happen. Run by University staff and experts from local businesses, it also gives individuals the opportunity to win up to £3,000 to develop their business ideas.
Following on from the success of last year, we're running the programme again. However, we're looking for individuals from the local business community who can act as facilitators and inspire others to achieve their potential.
Helping consumers avoid the Ts and Cs trap
A new University project is looking at whether artificial intelligence (AI) can help protect consumers from unfair contractual terms.
When making an online transaction, consumers have to tick a small box with fine print before continuing with the transaction - also known as the final agreement to the trader's Terms and Conditions, the Ts and Cs.
Dr Jens Krebs, Principal Lecturer in Law, and Dr Ella Haig, Reader in Computer Science, have been awarded £10k from the University's Themes Research and Innovation Fund (TRIF) for their project that aims to examine the extent to which AI can be trained to analyse a 'Ts and Cs' document to: identify terms which are out of line with terms used in similar documents, detect terms which go contrary to legal requirements and also the law requires traders to include mandatory provisions whose absence the project hopes to identify.
Dr Krebs said: "This funding will allow us to make use of one of the key technologies of the 21st century to eventually design an algorithm that has the ability and capacity to assess contractual terms at an unprecedented scale in the UK. The project represents an important step towards greater protection of consumers in goods and digital product markets."
Female Entrepreneurs Network
Whether you're a freelancer, a small business owner, or have a business idea you want help getting off the ground, join our events to connect with other businesswomen through some informal networking.
Our next event is on Monday 5 December from 10am to 12 noon in The Hive, Portsmouth Central Library. There'll be a chance to introduce yourself and your business, ask for support and advice, and enjoy a cup of tea or coffee and nibbles while you chat.