Lee-on-the-Solent business launches competition to create free post lockdown playground trail for schools
A BUSINESS is looking to 'give something back' to the local community by offering to create an interactive playground for children when they return to school after lockdown.
Monday, 1st February 2021, 1:22 pm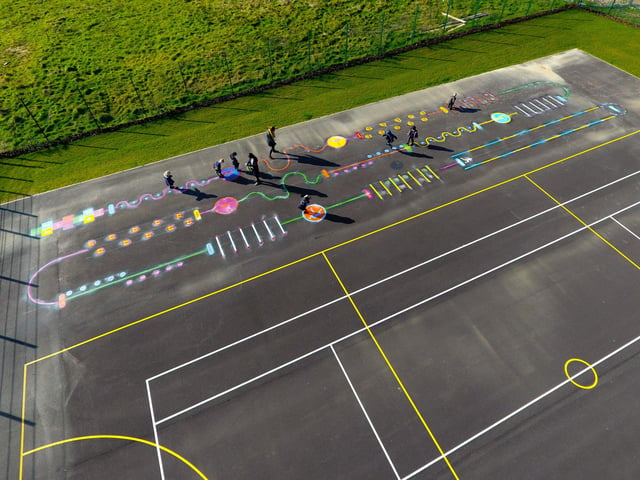 The Active Trail playground.
Lee-on-the-Solent based Fun & Active Playgrounds normally provide marked-out activities on school sites for children to exercise and play. Parents and teachers can now nominate their school to have a free 60-metre activity trail installed on their playground which normally costs £795.
Company owner David Bailey, 36, said: 'Covid has hit everyone hard and as a businesses we are obviously very quiet at the moment and a number of staff have been furloughed. It has been a particularly tough time for schools and as a business we thought it would be nice to give something back.
'I have all my children at home at the moment and I know how important it is for children to be able to move around and play. Hopefully this will be something for children who are still in school to enjoy and for other children to look forward to when they return to school.'
The multi-coloured activity trail features different stations where children take part in activities including sprints, jumps and exercise routines. The trails have been designed to be used as part of PE lessons.
The company's marketing executive Jessica Sparks, 26, said: 'We wanted to offer schools the opportunity to install something for children to look forward to after lockdown and to be excited to see on their playground when they eventually return to school. The active trail is our most popular markings. It is really colourful and gives them the chance to be active and have fun.'
Schools can be nominated via the company's Facebook page with a winner being randomly selected when the competition closes on Wednesday, February 3.
Jessica added: 'We have already had a fantastic response from parents and schools. The more nominations a school gets then the better its chance of being randomly selected to win.'
Once a winner is selected, Covid regulations permitting, the company hope to install the new playground trail by the end of February.
A message from the Editor, Mark Waldron
Our trial offer starts at just £2 a month for the first two months.