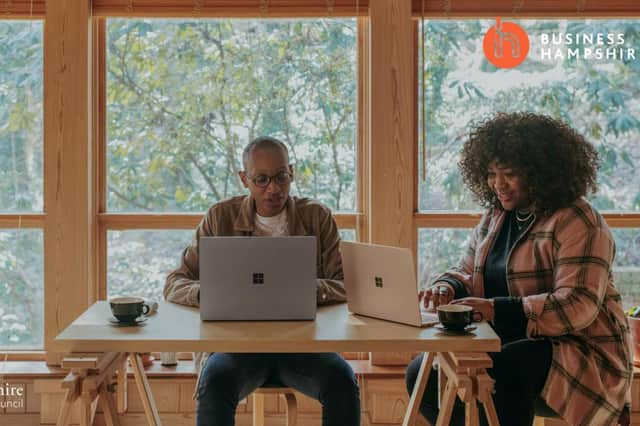 Hampshire County Council and Business Hampshire have launched a campaign called 'Make Hampshire work for you'
Hampshire County Council has launched the campaign to highlight the many benefits of businesses establishing satellite offices in the county.
Deputy leader councillor Rob Humby said they were hoping to capitalise on a shift in mentality bought about by the pandemic.
He said: 'The pandemic has transformed the way lots of people work, with many re-thinking the need for a long commute five days a week.
'In Hampshire, as we emerge out of lockdown and enter recovery, we are moving towards a greener and more digital working future.
'Offering satellite business offices in this way is just a first step to recognising our county as an even greater place to do business.
'Hampshire's beautiful countryside, vibrant market towns, excellent connectivity and proximity to the capital make it the perfect location for London-based companies to set up satellite offices and keep their business going, while offering an enviable and attractive work-life balance for their employees.'
The campaign – 'Make Hampshire work for you' – has been devised by the council's economic development service, Business Hampshire, in collaboration with local authorities.
It invites London commuters to 'Work Smarter – Live Happier – Commute Closer'.
Councillor Humby said: 'We're committed to doing all we can alongside our partners to help Hampshire recover from the pandemic - supporting and promoting our local economy is key to our future prospects and quality of life.'
Research suggest that many businesses are rethinking their property requirements and want to be able to provide a better work-life balance for their employees. Before the pandemic more than 25,000 Hampshire residents regularly commuted to London.
Andy Hodgkinson, from commercial property firm Lambert Smith Hampton, said: 'Replacing the grind of the daily commute with time to focus on health and wellbeing has been a huge positive to come out of lockdown.'
Russell Mogridge, from commercial property firm Vail Williams, said they had seen many clients reassess their real estate strategies.
He added: 'To say that 2020 has altered our world of work would be an understatement.'
A message from the Editor, Mark Waldron
The News is more reliant than ever on you taking out a digital subscription to support our journalism.