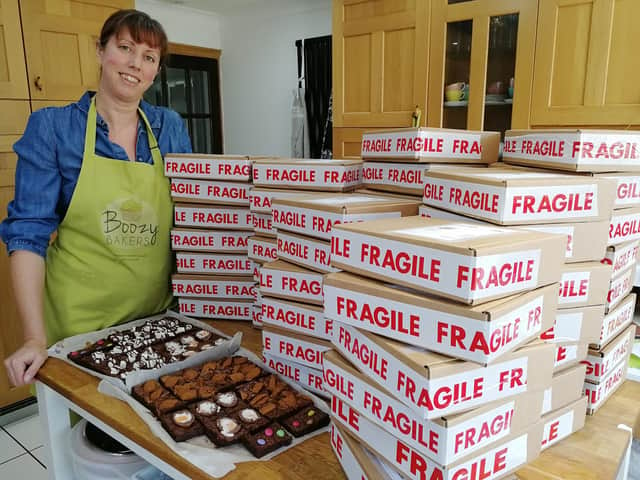 Michelle Wilding, who runs Boozy Bakers from her home in Denmead with some of the packages of cakes the business has sent out nationwide.
Denmead-based baking company, Boozy Bakers, held its first online baking class on Facebook last week, attracting 100 people, its second class, held on Saturday, April 25, has attracted interest from more than 3,000 people, including people from Italy.
Michelle Wilding, who set up the business five years ago, initially started offering baking classes for her children's classmates to join in via video conferencing app, Zoom.
The mum-of-two said: 'We decided to do baking classes for the kids' classmates to show them how to make biscuits, then the parents would join in and it became more than just the children doing it it was everyone getting together.
'Then I got braver and so we put it up on our page and had 100 people join us, which was lovely so we decided to do another one.
'We're just trying to adjust what we do.'
The team is made up of nine-year-old Erin and 10-year-old Max, who act as cameraman and head baker in the videos, as well as Michelle's husband who has been furloughed from his job at Hippo in Portsmouth.
They are planning on releasing ingredient boxes for local delivery for people that can't get hold of ingredients such as flour and eggs because of shortages in supermarkets, with a percentage of profits being donated to the NHS.
The Boozy Bakers website is still up and running, offering delivery of a selection of cakes, biscuits, cookies and more nationwide.
Michelle said they have seen an uptake of orders of personalised cookies with messages such as 'I miss you', 'thinking of you' and NHS themed designs.
The 37-year-old set up the business after baking gin and tonic cupcakes for a charity girls' night in which raised money for Macmillan and receiving good feedback from friends.
She started out using alcoholic flavour combinations before offering more traditional baking such as birthday cakes.
The business was a finalist in Hampshire Life Food and Drink Awards for Best Newcomer in 2015.