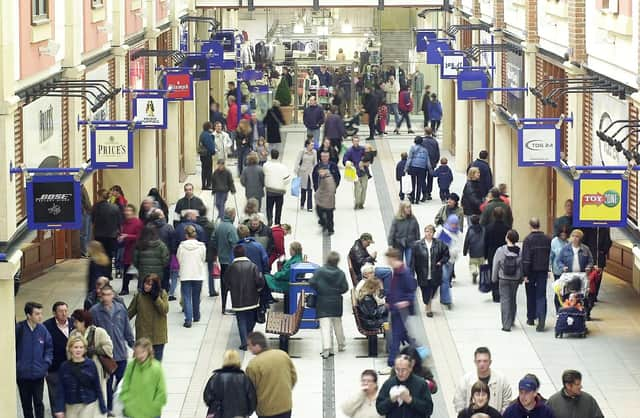 Crowds wander through Gunwharf Quays during the official opening on February 28, 2001. Picture: Luke MacGregor 011979-3_Gunwharf
Bosses have hailed the retail, leisure and dining award-winning complex on its anniversary.
Launched in 2001 with bars, restaurants, casino – and bowling alley and cinema – the outlet centre has 1,000 residents living on site.
Colin Wilding, senior centre director, said the centre 'couldn't fail but to be successful' given its seafront location.
Graced by the Queen in 2002, the centre plays host to an annual fireworks display and Chinese New Year celebrations.
It opened on February 28, 2001 – some four years before the Spinnaker Tower itself opened.
Mr Wilding said: 'At the time of opening it was an audacious development. Designed using the V&A waterfront complex in Cape Town as the inspiration, developers procured redundant land from the Royal Navy.
'The naval heritage goes back to the 13th century and in later years HMS Vernon, as Gunwharf Quays was called, became the home of the Royal Navy divers throughout both world wars.
'From the day of opening, in 2001, Gunwharf Quays was ahead of its time, a comprehensive mixed-use operation with bars, restaurants, a casino, a cinema and a bowling alley.
'The retail area opened as an outlet centre, as unique today as it was back then for such a comprehensive scheme – 1,000 on site residents gradually moved into the residential area and the icing on the cake.'
The Royal Marines Band has previously performed at the centre, keeping its naval traditions alive.
He added: 'I joined the Gunwharf Quays team in 2014 to support the delivery of a new and invigorated strategy, winning awards that Outlet centres hadn't historically been taken seriously for, and seeing strong growth.
'A great centre with a great team will ensure the future is as positive as the past – I can't wait to see how the centre evolves over the next 20 years and beyond.'