'My advice is to treat your eyes like your teeth' – city opticians move to larger premises
A team of opticians and audiologists raised their glasses to celebrate their move to larger premises.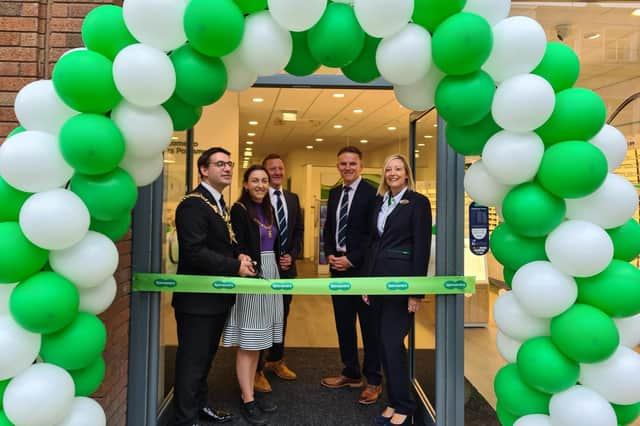 The new Specsavers store in Portsmouth, a stone's throw away from their previous home, now boasts eight testing rooms rather than six to meet an increased demand in the area for eye examinations and hearing tests.
Now located at 216-218 Commercial Road, the £600,000 store enjoys an increased 1,200sq ft of space.
The Specsavers team has been serving the needs of their local community for over 35 years and wanted to mark its new location with a party atmosphere for long-standing customers.
On hand to officially declare the store open with a ribbon cutting was existing Specsavers customer, the Lord Mayor of Portsmouth, Cllr Tom Coles.
The Mayor said: 'I am delighted to see a well-known brand continually invest in our community.
"This new store feels very airy and spacious and has impressive innovation that I was unaware of until I came in for a tour. I wish the store and the team every success."
Store directors Julia Moulton and Colin Jenkins showed off the OCT technology that is available for all customers wanting a more thorough eye examination.
OCT enables opticians to take a 3D image of the back of the eye to help spot serious eye conditions, including glaucoma, up to four years earlier than traditional methods.
Julia, retail director, said: "Many customers were intrigued by our hearing care services and were unaware we offer earwax removal.
"We are delighted to invest in our local community, and we promise local residents the very best customer experience."
Colin, optical director, is keen to stress that two-year eye examinations are important and is delighted to offer additional appointment availability for locals.
He explained: 'Our capacity to see more customers has increased by a third thanks to the addition of two extra testing rooms.
'Another benefit with our new store is job creation. We are looking to recruit additional opticians, contact lens opticians and experienced optical assistants."
The new store opens at a time when the spotlight shines brightly on eye health with charity Vision Matters running an awareness campaign, National Eye Health Week.
Colin said: "Our eyes are precious, so they deserve regular attention and TLC.
"We recommend two-year examinations to check for changes in vision but also changes in eye health.
"You will be amazed at what the eyes can tell us, and opticians can spot various anomalies that can signal the onset of a wider health condition that a customer may be completely unaware of.
"My advice is to treat your eyes like your teeth – we all endeavour to have a six-month dental check-up. A two-year eye health check-up should be up there on the to do list too."
The new store is open seven days a week. For more details, call 023 9229 6959.