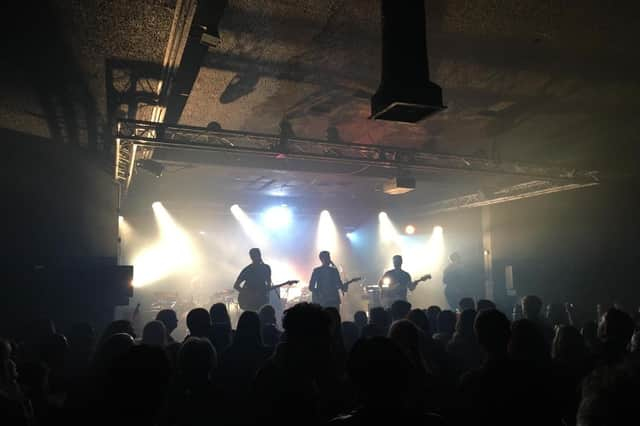 Portsmouth band Rotaries performing at the Wedgewood Rooms in Albert Road
Last night the government announced a £1.57bn support package to protect the future of Britain's cultural and heritage sector after lockdown left many on the brink.
Art sector bosses across Portsmouth and beyond have welcomed the news but further details about how the funding pot, which in England will be made up of £270 million of repayable finance and £880 million of grants, will be shared out has yet to be announced – and there are concerns some will miss out on vital help.
Sheena Hulme, operations director at New Theatre Royal in Portsmouth, said: 'It is great news that the government is finally listening but we are at the point now where some places have already had to make redundancies or close so they need to be quick on their promise now to save other venues.
'We also need more details on how the money will be divided and how to apply for it.
'It looks like a lot of money but there are a lot of places that need help and in different ways.'
The government has said decisions on awards will be made working alongside expert independent figures from the sector.
General manager of Wedgewood Rooms, Geoff Priestley said: 'It is very exciting and I hope it is not too late in the day for some people.
'It is great the government has recognised music venues but now we just have to await further details.'
Kings Theatre chief executive Paul Woolf said: 'I certainly won't refuse a cheque but it is frustrating as it feels the government is having its ear bent by the big guys and they aren't listening to regional theatres. They have one size fits all policy and that is just not the case.
'The devil is, of course, in the detail so it will be interesting to find out how they intend to share the money. Will we get the same amount of cash as a smaller venue in Huddersfield that are also struggling, how do you decide who gets what?'
Dominic Tweddle, director general of the National Museum of the Royal Navy, is unsure if the funding will be given to the museum in Portsmouth.
He added: 'We are delighted that the government is going to support the arts sector but as we get our funding through the Ministry of Defence so we aren't sure if we will get any from this funding pot but we are asking for help from the MOD so this gives us a bit more confidence that the support will be forthcoming.'
Gosport MP and minister of state for digital and culture Caroline Dinenage said: 'I'm absolutely delighted we've secured this fantastic support package, which is a world-leading investment in heritage and the arts and our biggest ever one-off in investment in UK culture.
'This will hopefully be a lifeline for many local venues including The Kings Theatre and Mary Rose Museum in Portsmouth, and the Mayflower Theatre in Southampton – many of whom have been concerned about the impact of coronavirus.'
It comes after theatres in England were told they could reopen on July 4 but with no live performances.
Culture Secretary Oliver Dowden said that he hopes outdoor performances can return 'shortly' but there remains a 'real risk' of coronavirus transmission inside theatres.
'I understand people's frustration,' he told BBC Breakfast this morning. 'They're desperate for theatres to return, I'm desperate for theatres to return, but we have to do so in a safe way.'
Thank you for reading this story. The dramatic events of 2020 are having a major impact on our advertisers and thus our revenues.
Every subscription helps us continue providing trusted, local journalism and campaign on your behalf for our city.